Profile In Gratitude: Emily Kornick and Mrs. Kober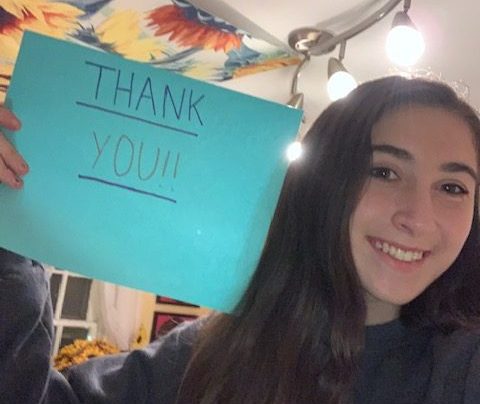 Emily Kornick would like to thank her former IB/HL English 4 teacher, Mrs. Kober, for being a positive influence on her high school career.
Kornick enjoyed her time in Mrs. Kober's class because she always has her student's best interests at heart. "She's always eager to hear our perspectives on what she was teaching," Kornick explains. Emily and other students loved how Mrs. Kober created an open and flexible environment in her class that encouraged them to enjoy coming to class and to not worry about sharing their views. Emily Kornick continues, "Despite the tough nature of the class and the complexity of the topics we cover, she nurtures and supports each and every student to the best of her ability, and creates an environment of support rather than competition." 
"
She's always eager to hear our perspectives on what she was teaching."
— Emily Kornick
Students like Kornick appreciated how Mrs. Kober made sure to acknowledge every single student and encourage them to work outside of their comfort zones in a way that helped them grow but did not foster more stress. Mrs. Kober pushes her students to be better while maintaining a positive atmosphere. Her dedication to her students allows her students to excel and her passion drives her students to be the best versions of themselves. If Emily Kornick could describe her teacher in five words it would be "enthusiastic, selfless, patient, empathetic, and dedicated."
Kornick also greatly appreciated Mrs. Kober's positive demeanor and her understanding attitude. "[She's] always positive and it's obvious how much she cares for her students and their mental health," Kornick says. This greatly affected the classroom and helped to maintain a happy learning environment for her students. 
On a personal level, Kornick describes one particular event where Mrs. Kober helped her. "One week I was completely overwhelmed with an intense amount of work and activities outside of school and wasn't able to turn in an important paper on time," Kornick explains. "She noticed how stressed I was about it and instead of getting upset at me for not getting it done on time, she gave me the support I needed to get through it." Acts of understanding and caring for her student's mental health is something that Kornick will never forget and will greatly miss. Kornick details, "I'll miss her dedication to her students and the passion she has in everything she does."
"
I'll miss her dedication to her students and the passion she has in everything she does."
— Emily Kornick
On behalf of Emily Kornick, the Patriot thanks Mrs. Kober for making her English class not only enjoyable and a supportive atmosphere for students, but also as well for her positive demeanor and dedication to her students that have helped them grow into the best versions of themselves.
 As the school year comes to a close, and New Jersey schools will no longer be going back to school due to coronavirus, it is becoming time to virtually say goodbye to the Class of 2020. The Patriot is asking seniors to thank their favorite teachers for making their high school career more enjoyable. If you're a senior looking to thank one of your teachers, email 21_a[email protected].