Profiles in Gratitude – Anjali Shah & Mrs. Brown
Mrs. Brown, better known as the IB Psychology and Research Methods teacher, Service Club Advisor, and avid Kit-Kat lover by her students, is infamous for her kindness and empathy. These are traits of hers I have come to know throughout my two years of classes in the psychology department. 
As a junior, hearing Mrs. Brown say that IB-SL Psychology would be one of the hardest classes I would take in high school was intimidating. However, I quickly came to realize that her teaching style and difficult curriculum would be easily undertaken due to her amazing personality and dedication to the subject. Mrs. Brown understands that her students are not machines. She always considers their workloads, making sure to ask what might be going on that week before assigning an essay; Mrs. Brown keeps in mind that, as high school students, we have other classes and activities to balance along with her class. Additionally, it is evident that she wants her students to do well in her class. She has effectively prepared her classes for the IB test, and despite the occasional (or continual if we're talking about the HL class!) complaining about completing research packets, we recognize that she is looking out for our best interest. She presents us with endless resources to help us and encourages us to always put our best foot forward. This year, she pushed seniors to complete psychology-related scholarships, introduced topics through guest speakers, and has let our class meet with her former students, giving us a new perspective. 
Besides her immense desire for her students to succeed academically, I recognize that she truly cares about every student and their personal lives. A moment that has truly stuck with me occurred my junior year, shortly after our return from winter break. As the school had just lost someone, Mrs. Brown dropped her guard and was open with our class, allowing everyone to feel their emotions, rather than pretending all was normal. We spent class periods drawing stress heads, writing down single words about how we felt in the moment, coloring, and doing puzzles. To me, Mrs. Brown has served as an in-school mom, someone who I feel I can go to whenever I'm feeling upset. She has gone above and beyond in being empathetic towards her students and giving them a safe space. I know that she continues to connect with her students on a personal level since she keeps in touch with her former students and talks about their endeavors! 
As a member of Mrs. Brown's current HL-Psychology class, I reached out to some of my peers to ask them their favorite things about Mrs. Brown. Below are some of the student responses. 
"She's very passionate about what she teaches and how she loves her students" -Adrienne Impellizeri 

"She understands her student's priorities and does her best to create a healthy balance between school and life" -Karina Miocevich 

"Her empathy allows for some really great class discussions because she goes further than the curriculum and makes her class relatable" -Emily Hess 

"No matter what she may have going on, she always presents the classroom as more of an intimate setting where I at least always feel comfortable just kind of taking a deep breath and enjoying the class time together" -Connor Gay 
I truly believe that the responses represent Mrs. Brown as a human. 
I think I speak on the behalf of her students when I say that we are truly grateful for Mrs. Brown as a teacher and a human and that her seniors will especially miss her as they move on to their future endeavors. 
About the Writer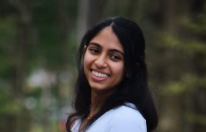 Anjali Shah, Staff Writer
Anjali Shah is currently a senior at Mendham High School. In school, Anjali acts as Student Producer for the Mendham Players. She is also a Peer Leader,...