Artist of the Week: Olivia Pescatore, Singer
Hang on for a minute...we're trying to find some more stories you might like.
Ever since elementary school, sophomore Olivia Pescatore has been singing both in and outside of her school. Pescatore recalls that "[she] started singing, I think toward the end of third grade." She began to take singing lessons in fourth grade in preparation for her fourth grade talent show where she performed "Anything You Can do I Can Do Better," from Annie Get Your Gun. However, Pescatore truly began to take her singing career seriously in fifth grade. "I've been singing for about seven years now," Pescatore says. With singing consuming almost half of her life, Pescatore expressed that she, "got hardcore about [singing in] eighth grade."
Pescatore has partaken in both the school's choir and an extracurricular choir. Joining Mendham Voices this year, Pescatore says that she, "thoroughly enjoy singing choir and having the opportunity to perform a wide variety of musical repertoire." Outside of school she is part of the The Continuo Arts Symphonic Choir up in Summit.  
Recently she has achieved the opportunity of obtaining a Messiah solo. It is the "fourth 'Angel' Recitatives that leads into the chorus, 'Glory to God'." Pescatore is very elated to be performing this part because its various high notes create a fun challenge for her. She is very grateful to be able to share this experience with her fellow musicians and friends at Mendham High School. "I am incredibly proud and honored to be able to share this lovely recitatives with the audience that comes to the Messiah".
One of her favorite memories from The Continuo Arts Symphonic Choir (the group outside of school) is going to perform at Carnegie Hall in New York City. There she got to work with famous British composer John Rutter. With him, Pescatore and her fellow singers go to present "the "Rutter Gloria" as well as "Mass the Children" with him." She loves to hear the feedback that Rutter can give her. Pesctore finds the opportunity very unique as she gets play music with the same person who composed it. "John Rutter is an amazing musician and composer to work with."
Pescatore will be returning to Carnegie Hall this year as well. She will be performing twice, once in mid-December, and again in May to work with John Rutter once again. "I don't know what our piece is this year but I'm very excited." She is ecstatic to go back claiming that it is her favorite time of year. With a smile beaming across her face, "Not going to lie, I look forward to it every year." 
She used to perform in plays as well. Landing the lead as Belle in her middle school's production of Beauty and the Beast, Pescatore got to further her vocal experience. Nowadays she can mostly be found behind the scenes, as she is very active in stage crew for the school's plays.
There is no telling when Pescatore will stop singing, but she definitely wants to continue at least through college and possible further.
About the Writer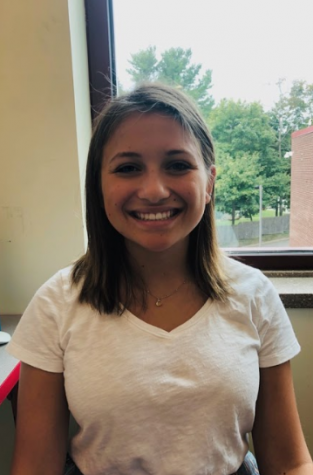 Annie Shafran, Writer
Annie Shafran is currently a Sophomore at Mendham High School. She is currently involved with Mendham's journalism class and is a Relay for Life captain....