Nia Slayne: An Extraordinary Singer & Actress
Nia Slayne is currently a Senior at Mendham High School and is an individual who surrounds herself with the arts and has a passion for music and theater. Nia is both an actress and a singer and has been singing since she was six years old and acting since she was twelve years old. According to Slayne, "I started to actually be in plays and musicals at school in 8th grade". Nia has been surrounded by music her entire life. From her mother who went to college for Drama, her grandparents who play different instruments(including the accordion!), and her dad who sings, it only makes sense that music is such a prominent part of her life. 
Nia is part of many musical things in the school including Mendham Voices, being the student director for the acapella group Treble Makers, a member of the acapella group Ladies in Red, and part of the Mendham Players Drama Club. Music is what Nia likes to spend her free time doing because of how much of a role it plays in her life. 
There have been many productions that Nia has been a part of throughout her high school years, but one that really sticks with her is the production of Chicago. Nia had a lead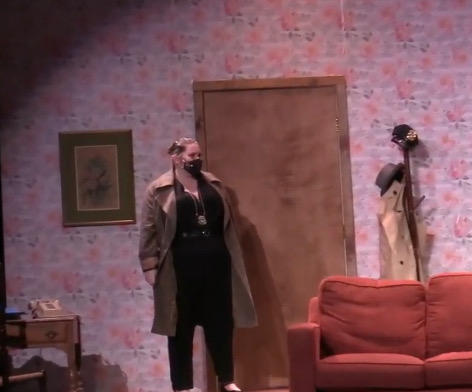 role where she played Mama Morton, which was a very big moment for her. When talking about this role she states how "I was really in love with this role and worked really hard for it so it was a big achievement for me". Besides Chicago, Slayne has been a part of High School Musical, Seussical, Macbeth, The Last Days of Judas Iscariot, RENT, and Arsenic and Old Lace with Arsenic and Old Lace being the most recent play that she had a role in. Nia doesn't limit herself to only plays or musicals but instead takes part in both.
Nia looks up to many different singers and artists and tends to get inspiration from many different ones. Some singers that Nia looks up to include Rex Orange County, Frank Ocean, Fleetwood Mac, Elton John, and Queen. Some of the actors that Nia grabs inspiration from are Timothée Chalamet, Sarah Paulson, and Steve Carell. When talking about inspiration when it comes to her music she says: 
"
"seeing young musicians my age who are successful inspires me because they push me to go for my dream""
— Nia Slayne
Nia is planning on continuing her musical career as she enters the next stage of her life and goes to college. Her plan is to go to college for contemporary music and possibly minor in acting. She doesn't have everything planned out yet for her future, but one thing she is certain of is that "Music will always be a part of my life".