Featured Artist: Alethea Bergad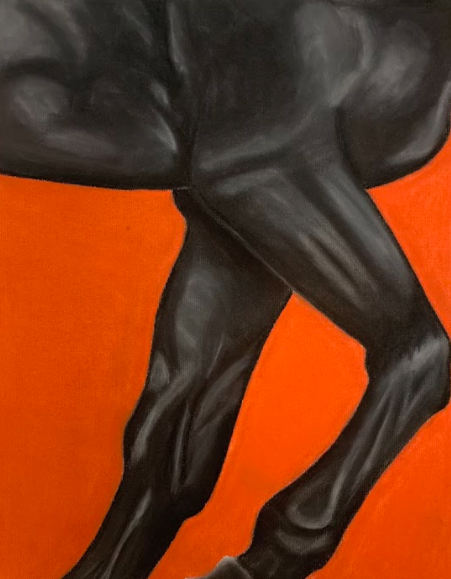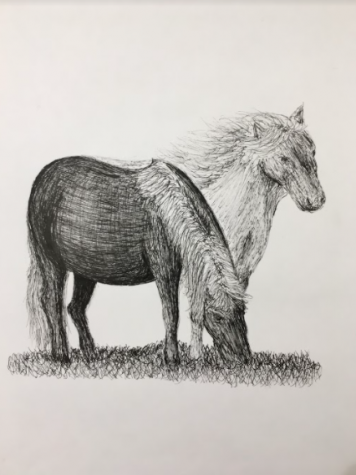 Beginning her art career as a freshman, now senior Alethea Bergad's work should not be overlooked. Alethea has taken art for all four years at Mendham, starting in Art 1 and progressing through the IB art curriculum. Drawing and painting have always been a passion of hers, alongside horses. As an equestrian, Alethea spends hours on end around horses and has been able to combine these two passions through her artwork. Horses have been Alethea's concentration over the last two years, stating that she "can easily draw them since she is familiar with their body" from spending an immense amount of time around them. Through her art, she hopes to portray the feeling she gets from riding while doing justice to the beautiful characteristics of these animals.
Besides horseback riding, Alethea finds herself to be inspired by negative space and contrast. Many of her pieces, most notably Cadillac Jack completed in her junior year, play with bright contrasting colors in the background and use the element of space to highlight the muscles in the running horse's legs. This piece was done with pastels and is her favorite work so far. She went on to say that her favorite mediums were pastel and oil paint. Her sophomore year painting Ribbon and Horseshoe was painted with oil paint over a long span of time, still following the concentration of horses.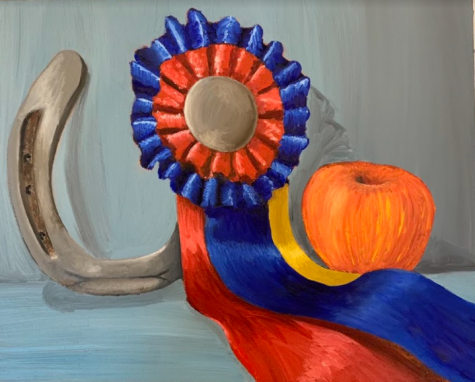 However, paint and pastel are not the only mediums she works in. Her sophomore year sketch Icelandic Horse #1 again highlights contrast by incorporating a darker and lighter horse, filling in shadows and highlights using only a black ballpoint pen. 
The IB art curriculum is demanding: eight finished works are required alongside a process portfolio. "It's not about the final piece. IB wants to see the process of getting there so we are required to take pictures every day." While IB usually requires ten pieces, two have been eliminated due to coronavirus limiting the ability for students to complete the same amount of work. In addition, Alethea is required to complete written work alongside her art. The comparative study requires her to choose three pieces of art by two different artists and compare them to her own work. Historical connections are very important in this class, and her research has led her to be influenced by other artists, using them as inspiration in her own work. 
While IB studio art has been a very different experience this year as it's been in the past, Alethea is grateful for the support that the school has given the art students. They have been provided with supplies such as paints and brushes, pencils, and canvases, to complete their work at home. Her passion for horses shines through effortlessly in her art, which truly never ceases to amaze.