Odd Future – Their Story, What Happened, and Where They are Now
Odd Future, also known as Odd Future Wolf Gang Kill Them All, is a music group formed in the heart of Los Angeles in 2007. Odd Future was formed by Tyler, the Creator, Hodgy Beats, Left Brain, Casey Veggies, Jasper Dolphin, and The Super 3. According to Tyler, the Creator, he originally intended Odd Future to be a magazine. They soon tabled that idea and began recording music together. Their first album 'The Odd Future Tape' dropped in October of 2008. By 2010 more members were added to the group. Including Brandun DeShay, who later had a falling out with Tyler, Domo Genesis, Earl Sweatshirt, Mike G, and Frank Ocean. The new and improved group toured throughout the end of 2010. Throughout recording new Odd Future albums and touring, some of the members were still releasing single albums. Which is quite impressive. In 2011 following the self-release of Frank Ocean's debut album, 'Nostalgia Ultra' and Tyler, the Creators album 'Goblin' their fan base continued to grow while receiving interviews and a small part of a press tour. In september of 2011 the gang decided to start their own comedy sketch show.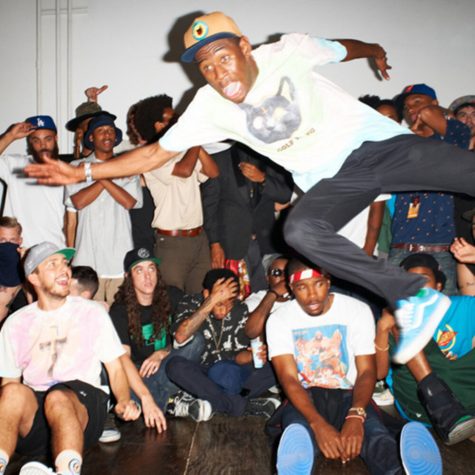 If we jump to 2015, some of the members have come and gone. Many of the members have had successful releases of their debut studio albums or any of their album drops. However, 2015 is when things started to get a little messy with the group. After Hodgy Beats confirmed that the group was not breaking up, Tyler soon after posted a photo on twitter almost confirming their departure. During the Odd Future set at the Camp Flog Gnaw Carnival in 2015, Tyler and Earl did not attend due to complications with Tyler's tour and Earl's new album release. Hodgy decided to take the opportunity to call out his dislike for Tyler. They proceed to have numerous Twitter battles about who is the reason for the Odd Future success. Hodgy makes a comment "If it wasn't for Odd Future, where would Tyler be?" which sparked outrage within fans considering the fact that Tyler was objectively the most successful of the group at the time. It was assumed since the falling out between Tyler, the Creator and Hodgy beats that Odd Future was no longer. And Tyler basically confirmed that they will not be returning to the state any time soon. 
Most of the popular artists from Odd Future are still making music today. Such as Tyler, the Creator, Frank Ocean, Earl Sweatshirt, Hodgy Beats, Left Brain, and many other members that were in and out of the group. Earl Sweatshirt is still making music and has released the most recent project of the three. It is assumed that Earl will continue to make music. Frank Ocean is currently on a small temporary music leave following the death of his brother. Fans are hoping he will release a new project soon but at this point no one has definite answers. Hopefully there will be a new album drop by Tyler, the Creator by this summer to follow is trend of releasing an album every two to three years. It is expected that Tyler will continue to make and produce music.