Athlete of the Week: Kate Klosowsky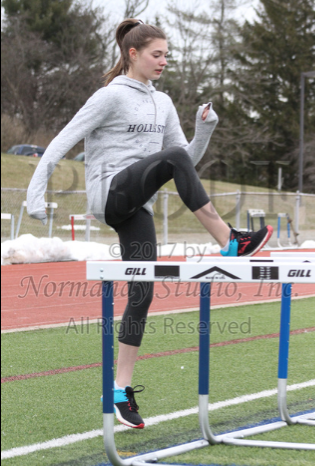 Hang on for a minute...we're trying to find some more stories you might like.
Junior Kate Klosowsky has developed into a staple of Mendham Girl's Track and Field team- specifically dominating the high jump event and most recently, hurdles. Despite being new to the sport, having begun her freshman year in comparison to the majority of track and field athletes who have been actively involved with the sport since their early middle school careers, Klosowsky's pure athleticism and commitment to success have propelled her to secure multiple achievements.
Acknowledged mostly for her abilities in high jump and hurdles, Klosowsky admits to having a favorite. She confesses that high jump brings her a greater sense of accomplishment and personal satisfaction when competing and setting new personal records- alongside her own reflection that she happens to be naturally more competent in high jump. Klosowsky had no predetermined intentions of involving herself in programs outside simply running but after constantly being approached by Coach Hamblen to attempt hurdles, she gave in. Although hurdling was the first event, besides running, that Hamblen saw potential in Klosowsky for, high jumping immediately followed. Borrowing similar skills of acceleration, jumping, and corporal coordination, her quick understanding in hurdles translated in high jump where Klosowsky was able to clear heights reserved strictly for 'experienced' athletes. Klosowsky reminisces in an interview about her gradual introduction to high jump that she almost had to teach herself in the beginning- "Coach was always busy… balancing his time between the boy and girl sprinters, the hurdlers, the long jumpers. I guess I just kind of figured it out on my own." Of course Coach Hamblen played a significant role in guiding Klosowsky in expanding her experience after that first day learning high jump, but Klosowsky independent start only emphasizes the natural talent she exhibits.
Klosowsky was not always involved with track and field but instead was a dedicated gymnast for outside organizations. She performed competitively and had done so since early childhood, however her decision to quit sophomore year sparked an interest in other manners to remain active. The allure of a school team and the popular 'Varsity' aspirations among students led Klosowsky to the track team- arguably the most inclusive and easy-to-adopt sport as it requires not much more than pure athleticism. When first joining, she admits that she was "nervous as I [she] was not even familiar with the sport and didn't really know what I [she] was even doing" but the familiarity of her friends on the team and the emphasis on fun was a relieving change coming out of competitive gymnastics. She continues about the significance of being part of a school team during the interview when truthfully claiming that "it is less pressure than competing outside of school and the sport eventually becomes more enjoyable and obviously, school sports are a good way at balancing being social and active simultaneously." Klosowsky remarks fondly that her favorite part of practices never really involved the actual running but instead were moments of collectively stretching as a team or blasting music on the speakers during hurdle practices.
Being as it is only Klosowsky's junior and second year with the sport, one can expect significant growth and success in both high jump and hurdle in her future and the future of Mendham's team with Klosowsky as a leading figure.
About the Writer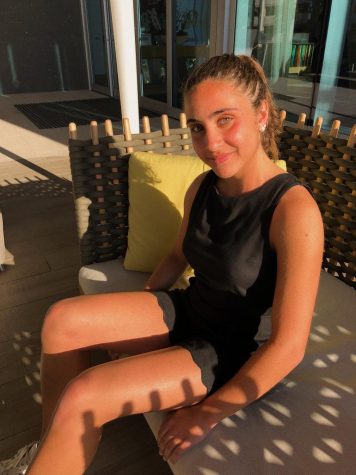 Maria Monaco, Associate Editor- Center
Maria Monaco is currently a 16-year-old junior at Mendham High School. She is originally from Brazil, living in São Paulo for seven years until moving...