Artist of the Week: Matt Wisotsky, Composer and Musician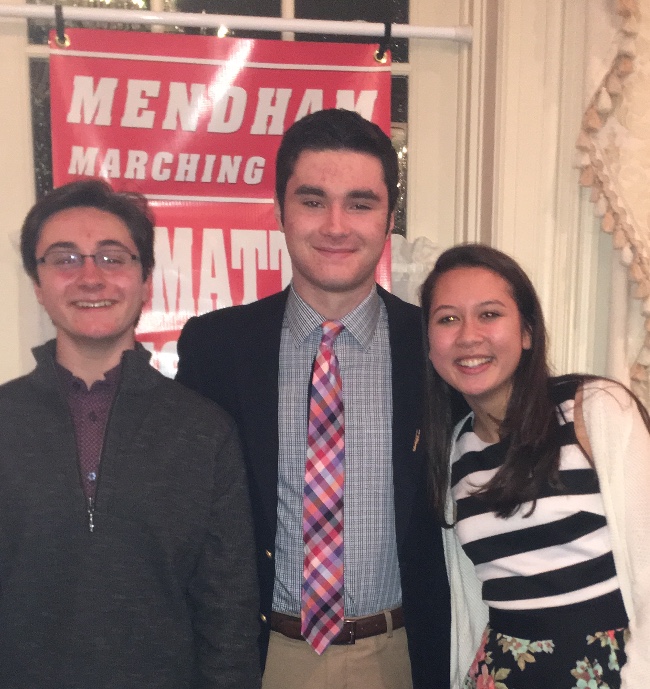 Did you see Macbeth? If you did, you probably heard music throughout and saw the band playing in front of the stage. If you did not already know, most plays do not have music: these songs were written by Matt Wisotsky, who also played the bassoon, recorder, and keyboard in said pit. The music in Macbeth added a lot of depth to the production. Music is a language and what Matt says with it is very compelling.
Matt Wisotsky is a senior here at Mendham. Aside from writing music, he also plays a couple instruments with bassoon being his main one. In fact, Matt was the second bassoon in All-State Band Wind Ensemble. He started doing Junior Region Band in middle school, and in his sophomore year first auditioned for the high school level Region Band. That year, he made it into the symphonic band, the lower out of the two bands. Last year he made second bassoon in their Wind Ensemble and he will soon be auditioning again this year.
Matt comes from humble musician origins, he started by playing the piano back in fourth grade. His first wind instrument was the trumpet, also in fourth grade, which was short lived as it did not go so well. He decided to try a woodwind instrument rather than a brass, so the next year in fifth grade, he switched to the bassoon. "I've been playing bassoon for eight years now," he remarks, "it's definitely my primary instrument: the one I love the most." His musical journey through learning instruments continued his freshman year with the saxophone. He is still adding instrumental skills to his repertoire as he is now learning the clarinet.
Matt began composing music in middle school in about sixth or seventh grade. "It was pretty elementary back then," he says. He started by creating little jingles on the piano and writing down what he had been composing. From there, he started writing more and more music, starting with short piano pieces and evolving to composing for more instruments and experimenting with different techniques. "It's been about six or seven years at this point," he remarks "I've gotten a lot of experience and have definitely grown a lot as a composer."
Macbeth was his first experience working with a live pit. He had previously written music for the Advanced Wind Ensemble last year. "Working with the band, I learned a lot about what worked with certain instruments and what did not." That had been Matt's first experience writing for a larger ensemble. He has previously arranged pieces for smaller ensembles such as the Saxophone Quartet and the Woodwind Quintet. In the near future, Matt plans to write another piece for the Wind Ensemble this year.
As a musician playing in the ensembles he has written for, Matt explains composing has "been a really helpful experience to learn how the different instruments work." Since Matt is mostly a woodwind player, composing for an ensemble such as Wind Ensemble helped him understand other sections such as brass and percussion. He says that composing was essential to his overall musical journey as it has "made me a lot more aware as a musician." He elaborated explaining how he needed to know "all the parts for the ensemble instead of only focusing on my own part since I have to be the one creating all of them."
Matt plans on incorporating music once he goes off to college since composing and music plays a big role in his life. He says, "I definitely want to keep it as a big part of my life as much as possible." There are certain schools that Matt has in mind that have strong music departments such as Princeton University and the University of Michigan, both of which he applied early action. This strong music program is important for him when deciding what schools he would like to go as he would like to complete a minor in music or even a double major.
Overall, Matt is a wonderful musician, composer, and person, so for his involvement in the many music programs in and out of school and all the hard work he puts into creating and playing music, Matt is this week's artist of the week.
Listen to Carnival – Written by Matt Wisotsky and performed by the 2017-18 Wind Ensemble
Photo and audio credit to Matt Wisotsky.