Featured Athlete- Catherine Holtz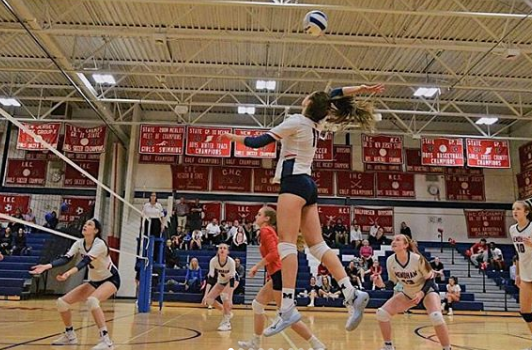 Mendham volleyball had an insane 2019 season, winning counties, states, and going on to compete in the tournament of champions. This year's 2020 season had high expectations for the fall but is now set to begin on March 1st, 2021. Due to new corona laws and restrictions set by Governor Murphy, the season set to start in August is now starting almost half a year later. 
Mendham Volleyball worked incredibly well together last year. They secured their first-ever state title and made it to the final round of the Tournament of Champions. Some credit for Mendham's successful past season can be given to Catherine Holtz. Catherine was a returning varsity athlete. Her most successful season was her most recent where she tripled her stats from the year prior. In this season she had 225 kills, 15 blocks, 75 digs, and 1 assist. This led her to the highest number of blocks for her team. 
Although she hasn't been able to recently play for Mendham, Catherine has kept practicing with her local club team, GSEVC. She has stayed attending tournaments and weekly practices in order to stay in shape and keep on improving.
Next Mendham season Catherine predicts that they will be even stronger than in the 2019 season. Catherine says she is, "Grateful for the experiences and opportunities Mendham volleyball has given me and I'm so excited for one last season!"
Over the summer Catherine committed to Gettysburg College to continue playing volleyball there next year. She plans on double majoring in political science and history while continuing to grow as a player.