Ranking The Best Thrift Stores Near Mendham
Over the years it has become popular for teens to drive to their local thrift store and see what steals they can find. In the past it was seen as an embarrassment to buy your clothes at a thrift store, however, it has now become the new trend to find your own unique pieces. Living in Mendham certainly has its perks, but lacks any thrift stores. Thankfully, there are plenty of thrift stores in the surrounding area. This article addresses the best ones ranked by your fellow thrifting extraordinaire.
Goodwill:
Goodwill is one of the most well-known thrift organizations in the country. On the Goodwill website, it states the nonprofit organization's mission is to provide people having hardships with finding income job training, employee placement services while having other community-based programs. Not only is goodwill a great store to help the neighboring community, but does also have a great selection of clothes. Although the closest Goodwill is in Rockaway, it still is worth it when wanting to find any selection of clothing items. When first entering the store, you can notice a large number of clothes, which is obviously a plus. However, as you browse through, it can seem very disorganized, sometimes depending on what goodwill you visit. It is seemed as unpleasing for many to go through all the clothes because of how much there is, but with thrifting comes patience, and personally, I find all my favorite pieces here. You can find everything. From funny, cool t-shirts to big, comfy sweatshirts. My favorite pieces that I've had for years were found at a Goodwill. Another plus is that they do not only have clothing, they have appliances, home decor, entertainment, and pretty much anything in between. They also have dressing rooms which are very helpful when picking out clothes you are not sure fit. Every Goodwill restocks on Wednesdays, so I recommend visiting sometime after they restock to get the best clothes first. Another thing I love about Goodwill is its sales. Every clothing item has a tag with a color on it, and every day they have color sales. Meaning that any item of clothing that has the same color as the sale color, you get a discount. This is also great because I have a Goodwill card and every purchase I make points are saved up which can benefit me in the future with discounts. Prices can also different between stores. The Rockaway store is a little more pricey than other Goodwill's I have visited. A t-shirt can be $8, which does not seem as much, but to an experienced thrifter, it is more than most. It also can get quite crowded, a lot of people, especially trendy teenagers, visit and it can be quite intimidating. Also, if you love comfy t-shirts, don't be too disappointed when you walk in and have the whole rack wiped clean. However, it's good to know that every item you buy goes back to the community by providing jobs and experience to people who are struggling to find one. Overall, Goodwill gets a 8/10.
Buffalo Exchange:
Although the nearest Buffalo Exchange is in New York City, I thought it was still important to include it on the list. Buffalo Exchange is a retail store that resells customers' clothing. One can simply bring in their clothes, and get money for it in-store. It's a lot similar to Plato's Closet, but I personally like this one better. Every time I enter a Buffalo Exchange store, I know I'm going to come out with something I love. Unlike Goodwill, everything is already separated and only the good quality, trendy items are accepted and sold. Meaning it can get a little pricey. Any thrift store that reorganizes clothes is going to be more expensive. If you don't want to waste all your time sifting through clothes then Buffalo Exchange is right for you. The negative thing is that I've only seen them in major cities, so unless you want to drive to the city just to visit, it's most likely not worth the trip. 6.5/10
Market Street Mission
Now let's get local. The Market Street Mission is located in Morristown and it's my favorite place to visit. Not only is it really close to the high school, but it also has a great selection, low prices, and a good message. The Mission is a non-profit organization that helps to support people that are struggling with income, homelessness, or struggling with addiction. On their website, it states that "The Market Street Mission cares for immediate needs today and long-term needs for a stable, independent tomorrow." They do this by providing "over 200 meals & 90 shelter stays each day for those in immediate help". They also provide 8-12 month recovery programs, education, and vocational training, among other services. The store is similar to the Goodwill because they do not only have clothes, but a wide collection of possibly "haunted" China, furniture, interesting home decor, 80's appliances, dad shirts, and y2k purses. The facility is fairly big, with an upstairs as well as the open main level. It's fairly organized into clothing, however not organized in size or color, like many thrift stores. Although there are positives, there are negatives. A popular item to always look for is a comfortable dad shirt, however, you have to be very lucky and keep your eye out because usually the whole session is cleared out every time I visit. A lot of the time the top section of the store will range from tank tops to heavy sweaters, so it can get a little overwhelming and hard to find what you want. However, I love stopping by every weekend, dropping off donations (which is very easy to do), and looking around. I always walk out with something when thrifting and The Mission aren't any different. it's great to know that your purchase helps people and your community while being a short drive away. 7/10
Book Barn:
The first time I went to this store I was extremely young and don't remember much. However, after returning last year, I've come to realize my love for it. Located in Denville, they have a large array of books. In fact, the whole place is covered, floor to ceiling, with any kind of book. Not only do they have books, but in the back, they also have a clothing section. It's really fun going with friends and checking out all the books and clothes. The clothing is fairly cheap, but there aren't a lot of items. They also have a wide variety of music (CDs) and movies (DVD's). I love thrift stores that have a lot of diversity in what they are selling and I don't want to buy just clothing pieces. I normally don't spend a lot of time looking at the clothes, but if you want to find extremely cheap, good condition books, I definitely recommend checking it out. Last time I was there I got 15 books for only $13. So if you love books as much as I do, I'd definitely recommend going. However, if you're only interested in clothing, then don't have extremely high expectations. 6/10.
Udelco: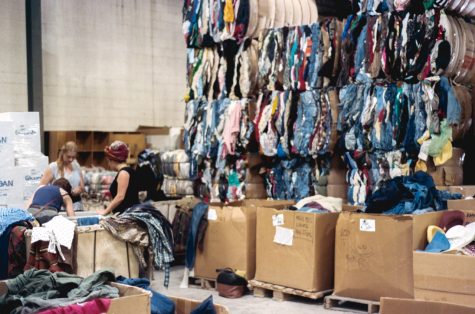 Udelco has been gaining a lot of attention over the years. I first visited this warehouse about 2 years ago, and it has been gaining traction ever since. On Tik Tok I've seen a lot of "visiting thrift stores near me" and Udelco has been gaining a lot of popularity because of it. Even though Hawthorne, where the store is located, is almost an hour away from Mendham, it is definitely worth checking out. The front entrance looks extremely sketchy, with stickers all over a black door in a brick building. However, once entering your place into thrifting heaven. It can be overwhelming with the vast amount of clothes, especially for someone who doesn't normally thrift and doesn't know what to look for. Even with this, anything you can ever think of is at Udelco. The large warehouse is covered head to toe with clothing for a relatively low price. The negative is that everything is in large boxes and not organized the best. The boxes are weirdly specific, saying "80's denim jackets" to "Hawaiian shirts" to "large tourists shirts". However, it's hard to navigate your way through the dark box, especially when it's on a shelf and you have to lift it down. It does seem like you are missing a lot but having to make your way through boxes and boxes. It is very easy to lose track of time in the building. It is extremely painful to dig through a bunch of boxes, but once you find something it is hard to not want to buy it. I've always struggled to find shorts that fit me well, but all of my shorts are from Udelco and fit me perfectly. It's kinda creepy how well they fit. Even though the boxes can be annoying, the crowd of people can also be seen as a negative. It can be frustrating when you want to go through a box but there is already someone going through it all. Even with the crowd and the annoying boxes, it is definitely worth checking out and bringing your friends with you. 7/10.
There are so many benefits to thrift shopping. The economical benefit is the most apparent. According to The Fashion Law, to make a single pair of jeans, 1,800 gallons of water are needed. This complete waste of clean water is extremely harmful to the environment. The World Resources Institute states that "The average amount of global industrial water pollution that can be tied to garment manufacturing." The large amount of clothes that are thrown away every year is exceedingly wasteful. Not just this but the fast-fashion lifestyle of buying cheaply made clothes that benefit large companies that use underpaid workers in lower economic countries to make their products is not something that we as consumers should support. The environmental impact is also devastating, the New York Times stating that "More than 60 percent of fabric fibers are now synthetics, derived from fossil fuels, so if and when our clothing ends up in a landfill (about 85 percent of textile waste in the United States goes to landfills or is incinerated), it will not decay." Helping small businesses, especially during this current economic crisis, and thrifting to support one's community is an important way to give back, and also to get something out of it. Finding a unique outfit also helps yourself become more creative and confident with your physical appearance. Having confidence is an important accessory to one's outfit that many forget. Knowing that you are supporting something by just purchasing clothing personally helps me feel more positive.
About the Writer
Erica Niehoff, Staff Writer
Erica Niehoff is a junior at West Morris Mendham High School. She loves reading, doing art, and listening to music in her free time. She is interested...