Four Trends That Need to Leave Your Closet
The new wave of avant-basic is here to stay.  With quickening trend cycles, shoppers tend to lose sight of the importance of longevity and uniqueness.  Here are some Tik Tok fashion trends that are not worth it.
Vivienne Westwood Pearl Necklace
This necklace – real and Etsy dupe alike – is painstakingly relevant in the world of TikTok. People should go for a more elegant and simple looking string of pearls for a look one would never get tired of while still keeping on trend.
Patchwork Jeans
Yes, these were once a part of the dream Pinterest aesthetic.  But now they must be retired.  These jeans are now considered "too trendy" and somewhat cheap-looking, as everyone has gotten a hold of them.  As an alternative, colorful Zara pants  tie together classiness and fun that can be worn for years to come, not just in a month-long trend cycle.
House of Sunny Peggy Cardi
This fur trimmed green sweater had its moment for a very brief period of time, but the running theme on these trends is that they spread like wildfire and are short-lived.  House of Sunny told Teen Vogue they always try to "avoid wasting products and materials by releasing limited runs of products in drops, acting against fast fashion as well as helping [the buyer] secure in advance the staples you want before it's sold through" (Nieves).  Sustainability and the fact that the brand calls most of their clothes "staples" boosts the integrity of the brand.  Although House of Sunny is not a direct contributor to fast fashion, other shops that sell dupes such as Shein or Amazon do.  Consumers, especially in the teenage demographic, are extremely short-sighted when it comes to buying because of how easily and cheap copies of expensive items can be made.
Furry Bags
Animal print furry bags scream "Shein".  The cheap material is not long-lasting like leather or faux leather would be.  Instead of wasting money on an $8.00 bag, invest in a sturdy leather purse.  There is no pressure for it to be made by some top designer either – Marshalls is a dependable and affordable store to shop at for beautiful bags.
About the Writer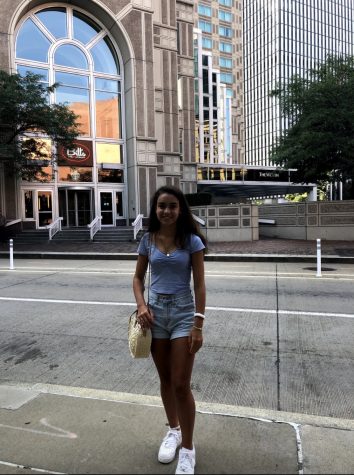 Sophia Bongiovanni, Staff Writer
Sophia Bongiovanni is currently a junior at Mendham High School.  She is a member of the Mendham and Randolph Y swim teams.  In school, she participates...