Boys and Girls Cross Country County Champs!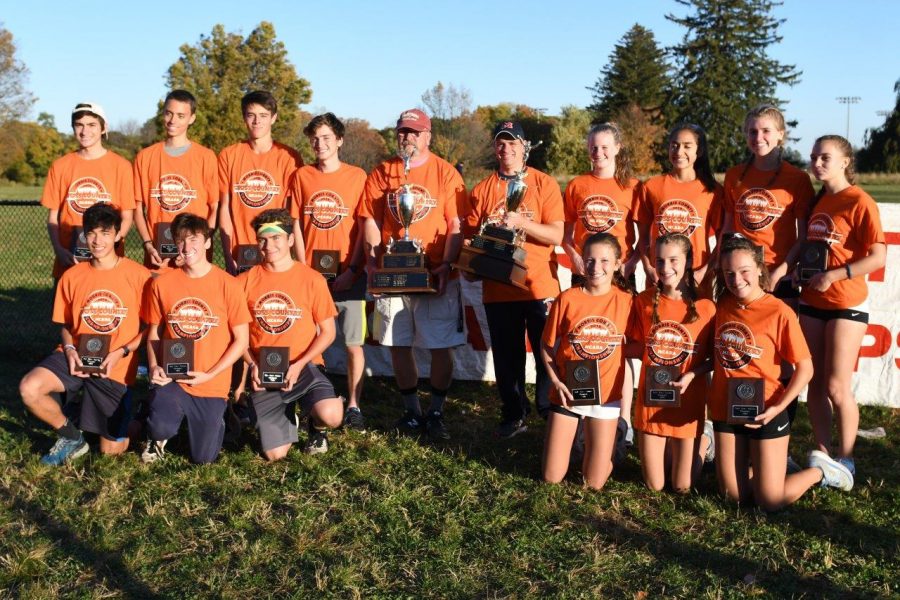 The cross country teams of Mendham have both been dominant all season and in the Morris County Championships on Wednesday, October 23rd, they exemplified this dominance and came home with two trophies! Coached by Mr. Kertesz and Mr. Hamblen, both the boys and girls teams had excellent performances. 
For the third year in a row, Hamblen and the boys cross country team got to take home the trophy being named this years 2019 county champions. Despite the wet terrain and losing, debatably Mendham's #1 runner in the history of the program, the boys team was able to continue their tradition of excellence. Through repetition of harsh training starting in August, their hard work has paid off once again. Mendham demolished their competition with times of 15:18, from 1st place runner Jack Jennings, 16:03, from 4th place runner Ryan Kear, 16:27, from 11th place runner Zach Hodges, 16:37, from 17th place runner Josh Chen, 16:42, from 22nd place runner Thomas Ganjemi, 17:03, from 30th place runner Tim Lanahan, and 17:21, from 41st place runner Sam Marran. As a result, Mendham was able to total 56 points, beating out second place by 32 points! As Coach Hamblen explains, "It was very rewarding because we lost one of the best runners in the country last year, and coming into the season we weren't as good as last year, but I knew if our 4-7 runners improved quite a bit then we could be as good, if not better than last year's team… and now I think we are even better than we were last year." Hamblen and the team hope to continue this reign into sectionals and eventually states.
Last Wednesday the Girls Cross Country Team won their second year in a row at the Morris County Championships. Winning with a score of 34, they beat Villa Walsh High School by 56 points. Four sophomores lead the team to a repeat of taking home the trophy and earning back the title of county champions. After being rained out on Tuesday, the Morris County Championship was postponed to Wednesday. The terrain was wet but the girls pulled through securing a consecutive win for the team. Megan Smith, a sophomore, commented, "The course was slippery but we all pushed each other and worked hard. We came here wanting a win, so we knew we had to give it all we had." The girls crushed the competition with an average time of 19:25 with Maddie Orlins coming in 3rd (18:53), Megan Smith coming in 5th (19:07), Ava Augustine coming in 7th (19:35), Grace Vives coming in 9th (19:42), Ava Curry coming in 10th (19:44), Lucie Antonius coming in 15th (20:03) and Apolline Gaspers coming in 26th (20:41). This years average time was about 26 seconds faster than last year's! Mr. Kertesz commented on the season as a whole saying, "It has been a successful season so far with winning the conference and county championships, but we are not done. Our sights are now set on the Sectional and Group State championships." The team and Mr. Kertesz are optimistic about the rest of the season, and in Mr. Kertesz's words are ready to "run fast". 
Both the boys and girls teams will compete for the sectional title on November 9th at Greystone Park! Come support!