The Internet-Famous Team StarKid Production Company Celebrates 10 Years
Team StarKid was founded in 2009 at the University of Michigan in Ann Arbor, Michigan. The company became an internet phenomenon, with the release of its first musical, A Very Potter Musical. The show exploded in popularity, bolstered by the concurrent release of Harry Potter and the Deathly Hallows. Eleven productions and ten years later, Team StarKid and its alums have achieved immense success. They have garnered an enthusiastic following on the internet, evident in the 2016 Instagram meme "I don't really want to do the work today" from their musical Firebringer. Team StarKid has also produced accomplished entertainers, with notable alums like Darren Criss, who won an Emmy and a Golden Globe for his role in The Assassination of Gianni Versace: American Crime Story, and Devin Lytle, of Buzzfeed's popular YouTube channel Ladylike. Criss was present for the anniversary performance.
Elisabeth Sauerman first discovered Team StarKid, when her friend "introduced [her] to their musical, The Guy Who Didn't Like Musicals," back in March of 2018. She exclaims, "I watched it through. It was really funny and very engaging, and I ended up just binge-watching, over the week, all of them." (For those interested, the musicals are available for free on YouTube.)
Sauerman heard about the performance through an Instagram video announcement and brought up the performance to her dad, who is also a fan of Team StarKid. Sauerman had donated to Team StarKid's Kickstarter to raise funds for the 'Tenniversary' Performance and their new musical, Black Friday. She explains, because "I was a donor to that and I got access to presale tickets for the performance, and I asked my dad, 'hey, do you want to go?'" Her dad's response, "'Sure! I've already got the plane tickets." With tickets in hand, Sauerman and her dad boarded a plane to Los Angeles to catch the performance.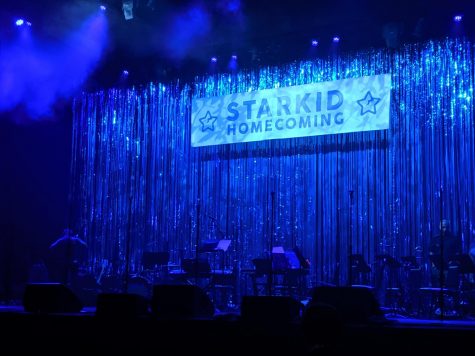 The show itself was rather simple, held at the elegant Theatre at the Ace Hotel in downtown Los Angeles. Around 40 former and current cast members performed medleys from the eleven shows, including A Very Potter Musical. The design of the set stood out to Sauerman. "It was very simple," she recalls. "They had the pit in the back, below these colorful, prom-like streamers that hung down and they had a sign that said StarKid Homecoming. They would bring mic stands on and off. It was very basic." Even in this stark setting, the music shined. Sauerman explains, "It was cool to see what they could do with so little on the stage." 
With ten years of productions and a successful 'Tenniversary' under their belt, the actors of Team StarKid are looking to the future with the release of Black Friday in late 2019. Sauerman and her dad, and the legions of other Team StarKid fans are waiting in anticipation.