Community Service Opportunity: Holly Manor Volunteering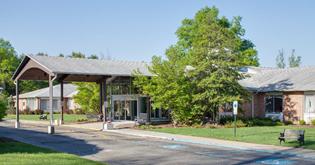 Holly Manor is a senior citizen home and geriatric healthcare facility in Mendham Borough. As a nursing home, they are in need of student volunteers, especially to bring in young energy and bring the elderly joy in their lives.
Mostly, student volunteers keep seniors citizens company and help combat boredom. Amy Holzberger, a student volunteer, explains "when you go to Holly Manor, your job is to talk to the elderly people and play games with them. Basically, communicate and give them someone to talk to." Many senior citizens get lonely, so it is nice to have people to talk to, especially youth.
Additionally, Holly Manor volunteers help run activities for the senior citizens. "You get to play Bingo with them" Holzberger recalls. Also, student volunteers will bring the elderly food, especially those that have movement difficulty. "Sometimes, you give them their snacks because they're old people, they eat pudding and jello," she says. "And then they smile!" Some of the senior citizens have an excess of food in their rooms that they like to give out to student volunteers. "There was this very nice old lady who got into a motorcycle accident, she gives you free food," Holzberger fondly remembers. "She always had cookies and muffins and cake."
Volunteering at Holly Manor is quite an easy process. As long as you are motivated and happy to be there, then you are gladly welcomed and grateful to those senior citizens. In order to volunteer, however, you must be at least a 7th grader and complete a simple application process. As Holzberger explains, "you sign a form saying you want to do it, then they look over things you have and there's an interview. Then they tell you what to do and you're hired." As you can see, this process is very easy, and as long as you have the right attitude, you can be volunteering almost right away.
There are no set hours for Holly Manor volunteers. "Whenever you have time, just show up" Holzberger explains. Students can volunteer all year round and at any point during the week. The hours are flexible which makes this a great community service opportunity for typically busy students.
Overall, volunteering at Holly Manor is an enjoyable experience for both the student volunteer and the senior citizens that they brighten their day. Holzberger notes, "volunteering at Holly Manor is a great way to spend your free time, and makes you feel good about helping your community!"
Photo courtesy of Genesis HealthCare.