Young Adult Leadership Council: An Opportunity to Volunteer at and Plan Events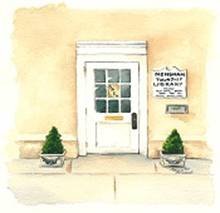 Hang on for a minute...we're trying to find some more stories you might like.
The Young Adult Leadership Council, or YALC as it is often referred to, plans and runs events at the Mendham Township Library. Mostly, the target demographic for these events are younger children such as elementary school aged children and even younger, but some of the events are organized for middle schoolers and teenagers.
Although the number of events per month changes, there is always one meeting each month at the Mendham Township Library. In general, each meeting, which take place at the Mendham Township Library, lasts around an hour, but depending on the program meetings might last longer. Gaby Acevedo, a student member of YALC, explains what happens at the meetings noting, "We plan things and get ideas out in the air if there's nothing immediate happening. If there is, then the meeting is to prepare for it." Another student member, Joelle Beck, adds, "They introduce events that they will be doing for sure and you can sign up," which makes getting involved in the events quite easy. For the March meeting, YALC planned an Easter egg hunt at the library and used the meeting to plan the event and put the candy in the Easter eggs.
On the Easter Egg Extravaganza, as YALC titled it, Acedevo explains that "The library does an Easter program every year and so we help volunteer." She continues with explaining, "We hid the eggs throughout the lawn, we did crafts upstairs with the kids, we helped plan the event." Every event is different and there is no set mold for what could happen in one. "Someone was the easter bunny," Acevedo notes of their most recent event (the easter egg hunt). Many of the events are centered around holidays, but of course not all of them are, as there are several months that do not have major holidays. "They give pizza at every meeting," Acevedo reports, detailing an extra incentive to join the program.
As for the benefits of joining YALC, the most obvious one is that members rack up quite a few community service hours by attending the meetings and participating in the different events. "On average, 3 hours a month," Acevedo estimates as to the number of hours accumulated each week. She adds, "it depends because some of the events are really long and some of them aren't." Beck also comments, "sometimes there's two events but there's always only the monthly meeting" and "the meeting itself, even though you're just planning stuff for the community, it counts as community service and community service hours." For those who are interested in further community service opportunities, Acevedo remarks, "it's a good starting point. You can get your feet wet with community service and maybe one day you can go more in depth."
For anyone interested, joining YALC is simple, "just go to the meetings and sign up for the email list" Acevedo says. Aside from obtaining community service hours in a worthwhile way, Beck notes the other benefits. "You get to know new people, a lot of people that are in it go to this school, but I didn't know them because they are juniors or seniors, or sophomores that I didn't already know," Beck notes. "It's a good way to get involved in the community," Acevedo says. "It's not super intense, where you need to always go and if you don't you get kicked out, it's not like that or anything. You go when you can, you help out when you can." "It's easy to schedule things around it and it'll never become a scheduling conflict," adds Beck, further expanding on the flexibility of the program. YALC is a chill, flexible community service program that is simple to join and has straightforward involvement helping out the town community.
Photo courtesy to Mendham Township Library.