5 Brunch/Dessert Recipes For Father's Day/Graduation
With Father's Day and graduation coming up, there's a lot to celebrate, and not a lot of time to make or buy an elaborate gift. If you need a quick way to show someone you're thinking of them, or just want to celebrate a special occasion with some delicious baked goods, check out some of the recipes below. And you don't even have to risk these recipes not turning out well– I've tried all five of them and they're pretty easy to make, as well as super delicious! Whether it be a Father's Day breakfast or a graduation treat, try one of the recipes below this spring, and take the time to celebrate the special events in your life.
Breakfast
Egg Dish (12+ servings)
In my family, we call this Christmas Morning Brunch, but we also make it for Easter and other special mornings! The best thing about this recipe is that you make it the night before and refrigerate it overnight, so you just have to pop it in the oven for about an hour the next morning! Not to mention it stays good for the next week!
Ingredients:
6 eggs (beaten)

7 slices white bread (trim the crust and cut into bite-sized squares)

½ teaspoon salt

¼ teaspoon pepper

3 cups milk

8 oz package shredded cheddar cheese

1 teaspoon dry mustard

Optional: bacon bits
Directions: Blend eggs and milk and combine with remaining ingredients.  Put in a greased 9×13 pan. Refrigerate overnight. Sprinkle the top with bacon bits and bake at 350° for 50-55 min (Note: once taken out of the oven, it will rise and then deflate). Refrigerate leftovers.
Cranberry Nut Bread (1 loaf)
This is the perfect bread for someone who likes not-too-sweet baked goods. The recipe combines the fruity taste of oranges and cranberries with the buttery taste of walnuts, making this the perfect bake for both fall and spring. Eat it warm with butter for ultimate enjoyment.
Bowl A Ingredients:
1 egg

1 cup sugar

¼ cup Crisco vegetable oil

¾ cup orange juice

1 tablespoon orange rind
Bowl B Ingredients:
2 cups flour

1 ½ teaspoons baking powder

½ teaspoon baking soda

½ teaspoon salt

1 cup chopped cranberries

½ cup chopped walnuts
Directions: Mix the ingredients in Bowl A together, then do the same for Bowl B. Combine Mixture A and B. Grease and lightly flour a loaf pan; pour batter into pan. Bake at 350° for 60 min.
Pumpkin Bread (3 loaves)
Every time my family goes to visit my grandparents on Cape Cod, my grandmother has a loaf of this AMAZING pumpkin bread waiting on the table. One of the great things about this recipe is that it makes 3 loaves, so you can freeze one or two to pull out when you're having a breakfast emergency. Eat it by itself or spread some peanut butter on top!
Ingredients:
4 eggs

3 cups of sugar (or less!)

1 cup of oil

½ teaspoon salt

1 teaspoon cinnamon 

2 teaspoons baking soda

1 teaspoon nutmeg

3 ⅓ cups flour

⅔ cup water

15 oz can pumpkin
Directions: Beat eggs to lemon color. Cream in sugar and oil. Add remaining ingredients. Pour into 3 greased and floured loaf pans. Bake at 350° for 60 min.
Dessert
Cookie Dough Brownies (3 dozen)
This recipe comes from a cookbook I have, and I've never had anything more chocolatey than these dense brownies. Just a small square will keep you up all night! **The only thing to note is that the cookie dough in the recipe uses raw flour; if you are not comfortable with that, use a non-flour cookie dough recipe instead or just skip it and top the brownies with the chocolate glaze only.**
Ingredients:
4 eggs

1 cup canola oil

2 cups sugar

2 teaspoons vanilla extract

1 ½ cups all-purpose flour

½ cup baking cocoa

½ teaspoon salt

½ cup chopped walnuts (optional)
Cookie Dough Filling:
½ cup butter (softened)

½ cup packed brown sugar

¼ cup sugar

2 tablespoons 2% milk

1 teaspoon vanilla extract

1 cup all-purpose flour
Chocolate Glaze:
1 cup (6 oz) semisweet chocolate chips

1 tablespoon shortening

¾ cup chopped walnuts (optional)
Directions: Beat eggs, oil, sugar and vanilla until well blended. Combine flour, cocoa and salt; gradually beat into egg mixture. Stir in walnuts. Pour into a greased 13×9 baking pan; bake at 350° for 30 min or until brownies are done. Cool completely. For filling, cream butter and sugars until light and fluffy. Beat in milk and vanilla. Gradually beat in flour. Spread over brownies; chill until firm. For glaze, in a microwave, melt chocolate chips and shortening; stir until smooth. Spread over filling and immediately sprinkle with nuts, pressing down slightly. Let stand until set.
Recipe courtesy of Bakeshop Favorites.
Lemon Squares (16 squares)
This citrusy, sweet little dessert is the perfect thing to welcome spring. The small portions make it just as good of a snack as it is a treat!
Crust Ingredients:
1 cup all-purpose flour (sifted)

¼ cup confectioners' sugar

½ cup butter (melted)
Lemon Filling:
1 cup sugar

½ teaspoon double-acting baking powder

2 slightly beaten eggs

2 tablespoons lemon juice

2 teaspoons lemon peel (grated)

½ cup flaked coconut

Extra confectioners' sugar (for sprinkling on top)
Directions: For the crust, sift together flour and confectioners' sugar. Add and combine butter. Press mixture into an 8×8 greased baking pan and bake at 350° for 20 min. Meanwhile, combine sugar, baking powder, eggs, lemon juice, lemon peel and coconut. Pour these ingredients over the baked warm crust and bake for 25 min. Chill. Before serving, cut into 2-inch squares and sprinkle with extra confectioners' sugar.
Recipe courtesy of Joy of Cooking, 1995 Edition.
About the Writer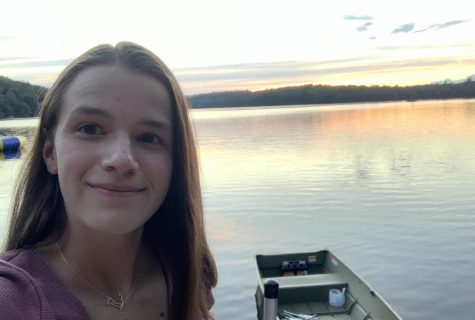 Adeline Perkins, Freelance Writer
Adeline is a freshman at Mendham who loves playing soccer and running on the weekends. Someday, she wants to run a half marathon! Adeline also loves vacationing...