Athlete of the Week – Frank Kontely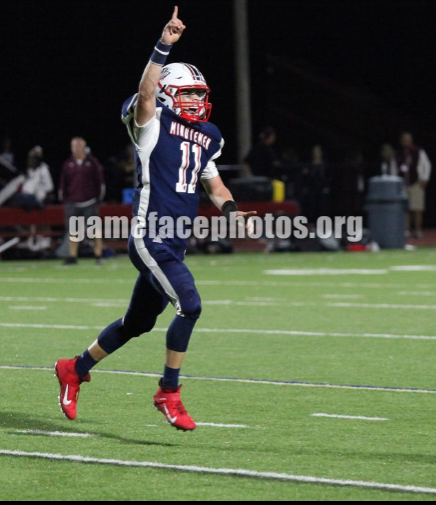 Frank Kontely is a current sophomore at Mendham High School. On Friday, September 24th, Frank Kontely had a breakout performance as quarterback for Mendham. Frank likes playing quarterback because he likes to be "a part of every play" and believes that to be a good quarterback you need "to be a leader [ and have] toughness" and also be able to take hits and then keep going. Previously held scoreless in their past two games, Frank Kontely led Mendham to 29 points. He had 2 passing touchdowns, 1 rushing touchdown, and a total of around 200 yards during Friday night's home loss versus Morristown. When asked if he was proud of his performance, Frank said "of course, but [he] would have been happier if [they] pulled out the win". His performance is even more impressive when one realizes that he was thrown into the game after the original starting quarterback, Gage Armijo, got injured. Frank handled the chaotic substitution well and said he "didn't feel pressure" because he "had experience getting thrown into a game before". 
Even though he has received no word yet from Coach Ressler over whether or not he will maintain the role of starting quarterback, Frank is still looking forward to the opportunity of playing for Mendham and is especially excited for the homecoming game where the Minutemen will play Millburn at home. Frank will start versus Sparta this Friday, September 28th. Come out and support Mendham!!