Welcome to Minutemen Coffee Company!
Footage courtesy of Kelly Bierals and Julia Baggio, Editing by Catherine Callahan
Recently opened, the Minutemen Coffee Company is the new spot to get your coffee and snacks in the morning. Located in the lobby, the Minutemen Coffee Company is easily accessible. The Coffee Company opens every Friday, periods 1 and 4, so you better get your coffee quick as lines should soon be out the door! Although created and ran by Ms. LoScalzo, who is the SLE Coordinator, as well as Ms. Ward, it is the life skills students who play a large role in putting the supplies together and selling it to the staff and students of Mendham. There are 6 total life skills students who work for with the Minutemen Coffee Company, however, only 3 of the kids work at a time. We are looking forward to buying snacks and coffee every Friday, and you should too!
None of this would have been even possible without our amazing cafeteria staff. Not only do they supply the coffee, the cookies, and other snacks and beverages, but they also allow some of the life skills students to work by their side up in the cafeteria to give them a few pointers. In fact, Ms. LoScalzo explained to me how she felt about the cafeteria staff as she says that they are "lenient and wonderful" and following that up with, "they're really great". This showing our school community growing beyond the students and teachers to even the cafeteria staff as well!
Many of us see the Minutemen Coffee Company as another form of buying our morning coffee or grabbing a quick snack, but it's actually way more than that. This is most of the life skills students' first time selling goods and greeting customers, making this whole situation way more exciting, and also a learning experience. In fact, as Ms. Ward explains, "I also teach essential math with the same students so I even carry it over like we count out how much money we made, we look at the tally sheets…" This may just be a portion of what goes on behind the scenes post or pre working periods, but it just shows the importance this little coffee stand has on not just the students and staff, but those working for the Minutemen Coffee Company as well. And the most important part is that these kids have a ton of fun working and take a lot of pride in running the company. So if free, bring your wallets and visit periods 1 and 4 on Fridays for a nice little treat!
About the Contributor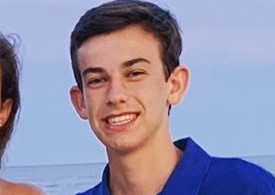 Cardie Saunders, Sports Editor
Cardie Saunders is in eleventh grade at West Morris Mendham High School. As a part of the school, he is and has been a member of the cross country, winter...