Athlete of the Week January 14th
Hang on for a minute...we're trying to find some more stories you might like.
On Wednesday, January 15th, Mendham Ice Hockey played Newton High School in an absolute dominate win where Mendham won 10-2. Jake Marszalek led the team with 5 goals and is the Mendham athlete of t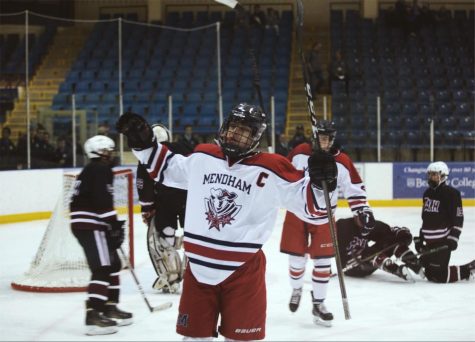 he week for the week of January 13th. Marszalek is a senior at Mendham and a captain of the team, we were able to get an interview with Marszalek to speak about his feeling and goals for this team. Currently, Mendham Ice hockey has their best record over the last two years and we wanted to go into more depth with Marszalekabout the season. When asked about how he feels about being the leader of one of the best winter sports Mendham has, he responded with, "It is a great experience, to be able to lead everybody to success is just an overall great feeling." Truly a heartwarming answer and helps fans to know that the successful captain is looking out for more than just wins. This is Marszalek final year of high school and he is ending it on a high note. We asked Marszalek about if he believes he is fulfilling his role of being the only senior on the team, and he replied with, "Yes, it does feel like I am fulfilling my senior year of hockey, I am having one of the best seasons yet and I can't wait to continue what I have started." An answer only a true hockey player would answer with and this Mendham is truly the best in a while. Lastly, we asked Marzalek about the future of the season and answered with, "I believe Mendham has a great shot at winning our league championship, we sit in the first place in the standings and we don't plan on moving into another place anytime soon." Mendham Ice Hockey is filled with talented players who want nothing more than success and they are showing it to the fans. Let's go Minuteman!