Among the Best Models Alive, There Walked an Activist
From violent bomb-making radicals like Ted Kaczynski to teenage pacifists like Greta Thunberg, the modern world has been exposed to a variety of different environmental protests.
It's no surprise to anyone that in recent years more than ever, as scientists of all countries conduct more research and new studies are published what seems like every day, the world has become hyper-focused on ecological issues and ensuring a healthy future for next generations. So, this past week when a line of Louis Vuitton models were interrupted mid-show by a climate activist carrying a sign that read "Overconsumption = Extinction" the internet exploded. 
In what looked like something to come out of a dystopian novel, 26-year old environmentalist Marie Cohuet walked down the daunting halls of the Louvre during the final Louis Vuitton show of Paris Fashion Week. Proudly holding a sign in criticism of the fashion industry for its environmentally destructive behavior, Cohuet made it a formidable distance down the runway before being tackled by security and forced off stage. Amidst the interruption, models continued to showcase their newest accessories; some even stepped over Cohuet as she was seized by police on the floor. Popular activist groups that she is a part of, including Extinction Rebellion, Youth for Climate, and Friends of Earth, defended Cohuet's actions online. "The rich and powerful, the 1%, need to be held to account for their impact on the destruction of our planet," Extinction Rebellion detailed in an Instagram post before adding the hashtag "EatTheRich". While the entire incident was recorded and immediately went viral online, it was surprisingly not the first time a climate activist (or even one from Extinction Rebellion) had pulled the stunt. In the spring of 2020, another protester from the group crashed a Dior show while holding a large yellow sign that read "We Are All Fashion Victims". The incident created similar buzz, and brought parallel questions and criticisms of the fashion industry and its ethics. 
Taking to Twitter after her capture and consequential release, Cohuet followed the defensive trend of her groups while remarking "We marched to demand that fashion realize that the world is burning." Her immediate comment came only hours before another tweet in which she detailed her perspective and reflections on the protest. The tweet, titled "I infiltrated Louis Vuitton's catwalk during Paris' Fashion Week last night. Here's why" calls upon the French government to expand federal limits on fast-fashion emissions in order to solve the "questionable practices" of Louis Vuitton and other clothing conglomerates.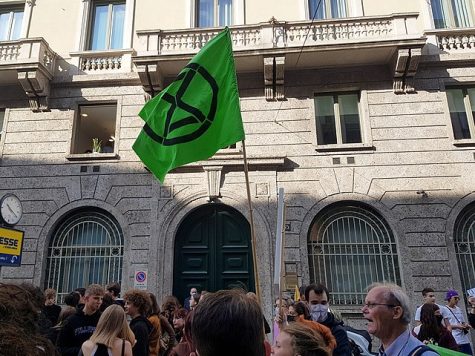 While it's difficult to argue that Cohuet's short-lived protest will have any serious impact on the fashion industry, other recent examples of environmental activism give some hope for the possibility. One definitive truth is this: whether or not environmental protestors will win the fight against big businesses, they won't go down without a fight.