Mendham Boys' Basketball Summer Showcase
Mendham's boys' basketball team pulled through and brought home a win for the school against one of the top teams in the state. In mid-June Mendham High School's Basketball team made it to an event at Kean University in Union, NJ where they played alongside several of the best teams in New Jersey. The showcase, held on the 18, 19, and 20 of June, allowed the boys to get a jump on what will hopefully become another successful season.  
Marty, a senior on varsity describes the experience. After a loss against Bishop Eustace in their first game, Marty added that it meant the team had "more focus to lock in on….. the fundamentals" to win their second game against Shawnee. Mendham and Central were among the only two teams in the county to make it to the showcase. Both teams had a successful season last year, allowing them to compete at the level of the strongest basketball programs in the state. Marty said that "It was a really good start to the season."
The less competitive environment of the convention allowed for players to have fun and focus on their ability to play the game. Marty mentioned that fans were not permitted to watch the games, which kept the players' from feeling pressured or overwhelmed as they might sometimes during school games. Some of the players got an early look at some of the college recruiters that attended. Marty said that this event was a good learning experience and definitely helped them figure out everyone's place on the team. Leadership positions also became more evident, as some of the seniors on the team had to step up to fill the place of the teammates they lost last year. After that response, Marty touched on the difficulties in no longer having some of the seniors because of their ability to play.
"
It was a really good start to the season."
— Marty Mahoney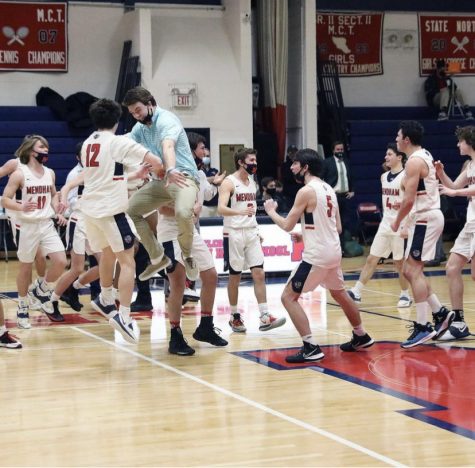 Overall, the team gets along well with one another and enjoys playing together. The event brought the team together, not just in location but in spirit. Marty brought up a specific example of the quality time spent with his team, saying, some of the boys had to carpool to the games. When asked his favorite thing about the sport he notes that "I love playing with the guys here at the high school. I feel like we are all pretty close friends." Marty also mentions Coach Connoly, previously a coach at Morristown, saying that "this is his third year coaching us…. I really like him." The basketball program is definitely one of Mendham's best sports programs based on their playing, but their attitudes towards the sport and their team set them aside from the rest. Not only was their win impressive, but it showed the resilience of the team in coming back and playing after a loss.