Mendham Girls Volleyball State Championship
The Mendham girls volleyball team came home with another state win against Chatham on Monday, April 19. This makes two years in a row that the girls have won their division of states. Unfortunately, due to COVID-19, there will be no Tournament of Champions, so the girls will have to cut their season a little short. However, they are more than happy to be ending their season with such an epic win. Despite being the underdogs in the state final against Chatham, the girls persevered and beat their opponent in two sets. After reading the article posted on NJpowerranking.com, stating that Chatham would beat Mendham, the girls used that as motivation to win the championship game. This has been an incredible season for Mendham with both setters, Katie Webber and Chloe Czop, being thrown into the position even though they both have not set in over a year. Captain, Cat Holtz, proved why she is going to Gettysburg College to play volleyball with kill after kill, game after game. Holtz led the team with three blocks, five kills, four digs, and an ace against Chatham. Michele Kifiyak, the star libero for Mendham, is the backbone of the Mendham defense with her amazing consistency, persistence, and energy. Wherever the ball is, she's already there ready to get it. "Michele Kifyak is a baller. No doubt," fellow teammate Ania Trzesniowski says in response when asked to describe Kifyaks defensive skills. "She gets every ball and does it with grace." Kifyak and Holtz both ended their high school volleyball career with stats in the 400s. Kifyak with digs and Holtz with kills. Middle blocker, Poppy Skjonnemand, proved to everyone why she earned her starting varsity spot sophomore year in the last game of the season, leading the team in kills.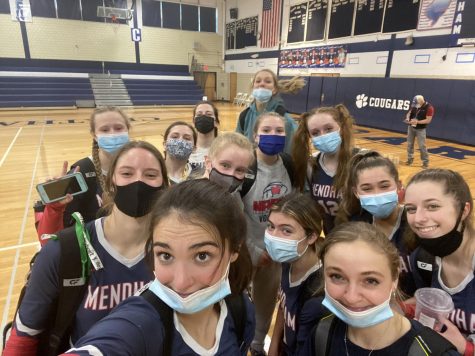 "I can't remember a single hit where she didnt hit a strong ball either around or through a block," Annibelle Ernst, the other middle for Mendham, says about Skjonnemand's game play. Senior outside Ally, 'Big Al', Blackwell made her last game of volleyball count by contributing to countless amazing plays, resulting in a win for Mendham. Ania Trzesniowski, the right side for Mendham, got the game winning block, despite constantly saying she "doesn't know how to block." Trzesniowski and Ernst had amazing communication skills during the last game of the season and did a great job closing the block and allowing the defense to do their job. Overall, this has been a very memorable season for Mendham volleyball and the girls hope to continue their success into the following season.