11th-Seeded Syracuse is Heading to Sweet 16 With Last-Second 75-72 Win Over WVU
Amid the Coronavirus pandemic, the 2021 NCAA DI men's basketball tournament began last Thursday night and will surely be unlike any March Madness that has come before. On Sunday night, 11th-seeded Syracuse defeated third-seeded West Virginia 75-72. Led by 76-year-old head coach Jim Boeheim, the Orange will advance to the Sweet 16 for the third time since 2016. 
Junior guard Buddy Boeheim, Jim's son, became a key component to the team's victory in the second half of the game. Despite scoring just three points in the first half, Buddy came back with 22 in the second. His jumper and three on consecutive possessions put Syracuse ahead 63-59 with 4:55 to go. Boeheim further secured the victory after scoring three free throws in the waning seconds of the game.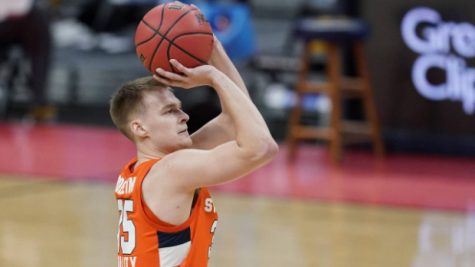 Former Orange sharpshooter Gerry McNamara (G-Mac) "just came up to me at halftime and said, 'Keep going. I don't care if you miss 200. Just keep shooting,'" Buddy Boeheim said. "I just said, all right, if I get clean looks, I'm going to have to take them and I'm going to start making them."
Like many Syracuse opponents, the Mountaineers struggled against the 2/3 zone with poor shooting (37.1%) and turnovers (14). "SU offensively overpowered West Virginia," writes Danny Emerman of The Daily Orange. Sophomore guard Joe Girad III scored all 12 of his points before halftime, adding to the game's success early on. Sophomore forward Quincy Guerrier and senior forward Marek Dolezaj also scored 12 points each for the team. The game was a perfect matchup for the jump-shooting Orange, as WVU allows a high rate of open jumpers.  
The Orange have advanced to the Sweet 16 every time they have received a double-digit seeding. The Final Four as a 10 in 2016 and the Sweet 16 as an 11 in 2018. ESPN describes SU as "the bubble team nobody wants to play" because of this very reason. However, three weeks earlier, it seemed as though fans and many commentators lost all hope for a Syracuse comeback. 
After barely scraping by Buffalo, Bryant, and Northeastern, Syracuse lost twice against Pittsburgh, while Duke and Georgia Tech handed the team back-to-back losses. In the final weeks of the season, Syracuse beat North Carolina, Clemson, and NC. The defense gradually improved, and the team came alive, earning an 11-seed in the NCAA tournament.
In the first round, Syracuse knocked off sixth-seeded San Diego (78-62). Then came WVU and now second-seeded Houston this Saturday, March 27th at 9:55 p.m. EDT. 
"Look around. Look at some of the teams that are out. It's really hard to get to the Sweet 16…There's so many good teams. You watch all these teams that are winning that nobody knows that much about, and it's not an accident. There's just a lot of really good coaches. There's a lot of really good players," Jim Boeheim explained to the media. 
Syracuse's season turnaround is far from over.
About the Writer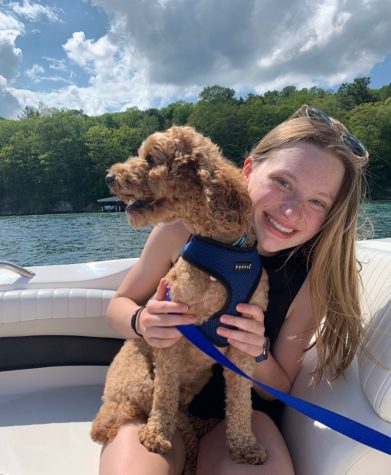 Emma Stark, Co-Editor for Sports
Emma Stark is a sophomore at West Morris Mendham High School. She plays volleyball for Mendham and for Garden State Elite. She also sings and plays the...