Can the Conways Change the Way People View Them Through American Idol?
What American Idol used to be was a platform where small singers could turn into stars.  It was genuine, wholesome, and real.  But now, in a world where ratings come before any sort of talent, Claudia Conway gets the spotlight on season 19 of American Idol.  Originally known as the daughter of former Trump advisor Kellyanne Conway, Claudia has built up a following on TikTok.  On social media, she is a self-proclaimed activist.  She is 16 years old and certainly making waves.  Claudia's prevalence is due to her unapologetically rebellious personality and harsh, sometimes emotionally abusive, relationship with her mother.  
In order to find some light in her life, her father George Conway, encouraged her love for music and decided to let her audition for American Idol.  He was her main supporter, "accompanying her to the Idol set". George stated, "he 'couldn't imagine anything that would make her happier than to do this'" (Yahoo News).  When Claudia entered the audition room, she was immediately asked by Katy Perry, "Are you OK?".  She replied in her usual playful yet self-deprecating "No!" (Variety).  This created a level of relatability for teen viewers.  They're used to those types of jokes.  But as she dove deeper, she came out with a 'practiced defense of herself to the judging panel: 'I only want to spread love, and I love a compromise. And I do agree to disagree with my mom and my dad.'" (Variety)
Claudia and her father believed that she had the chops to make it big in the singing world.  Although it was palpable that her ticket to Hollywood was predetermined by producers, she still had to audition just like everyone else.  In her first attempt she sang "Love on the Brain" by Rhianna to which she was stopped short by Katy Perry.  Claudia was then given a second chance where she sang "When We Were Young" by Adele.  Rather than judging her as just another audition, the judges coached her through her songs and pushed her through.  Claudia gained two out of three votes.  As InsideHook accounts, "[American Idol knows] that she has a massive social media following and that folks will tune in to gawk at her crazy family, and so they give her a golden ticket."  This strategy proved to be massively successful because according to Billboard, it "debuted with winning numbers"
It is obvious now that the Conways took this opportunity to "[redefine Claudia] in the public eye" (Variety).  However, Claudia is in fact partially defined by politics.  She became well known from her activism and staunch disagreements with her famous parents – there is no denying that.  Claudia has even gone so far as to accuse Kellyanne of purposely "posting nude photos of her 16-year-old daughter" on Twitter on January 25 (Vox).  To make matters worse, Claudia had posted a series of videos on TikTok documenting Kellyanne's emotional abuse while both stricken with coronavirus.  In contrast to the morbid recordings, Kellyanne presented herself as a loving, encouraging mother on American Idol.
So, people are left with this question:  can the presentation of love and happiness change everyone's views on the Conways?
About the Writer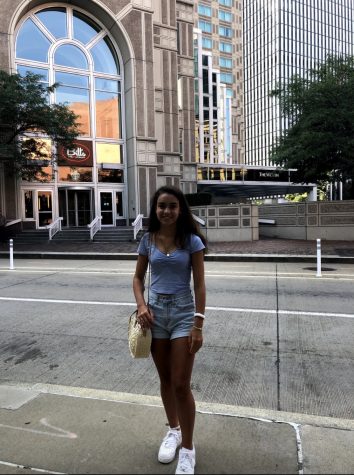 Sophia Bongiovanni, Staff Writer
Sophia Bongiovanni is currently a junior at Mendham High School.  She is a member of the Mendham and Randolph Y swim teams.  In school, she participates...