Among Us? What is it and why is everyone obsessed?
With a global pandemic still in the front of people's minds, it's inevitable that a video game will become popular when much of the world is forced to remain indoors. A murder mystery game on the other hand, not extremely predictable. Created in 2018 by an indie game developer, Among Us is the perfect way to test your trust. Like many games, it was under the radar for two years until this past summer. Well-known Twitch streamer "Sodapoppin" introduced the game to his over 2 million followers, and it caught like wildfire. By late September, the game's popularity skyrocketed. Well-known gamers like Pewdiepie, Corpse, KSI, Ninja, and even other YouTubers like James Charles joined in on the fun to further increase the notability. 
The game is similar to mafia where there are 4 to 10 anonymous "crewmates" who are dropped onto an alien spaceship and have tasks to complete, if all the tasks are completed then they win. However, there are imposters who (can span from 1 to 3) have to kill all the crewmates in order to win. Whenever a body is discovered or a meeting is called, the crewmates vote on who they think are the imposters. Lying and being deceitful is the way to win as an imposter, but no matter what position you are in you're bound to break some bridges. In order to win as a crewmate, you have to prove your innocence and work as a team to find who is guilty. The simplicity of the game is almost intriguing, making each game different and enjoyable.
The game has become so popular mostly because of how famous YouTubers or streamers will play the game together and it's fun watching them all interact with each other. Not only that but the fact that the game is free to download also increases the number of people playing and how anyone can easily play with friends. The main reason why it has become so popular is the culture surrounding it. From Reddit to memes on Twitter and Instagram, many share the hilarious jokes surrounding the game, and others who do not understand go to discover what it's all about, further increasing its popularity. Well-known Twitter accounts like No Context Among Us and Among Us Struggle along with dozens of Reddit accounts post memes about the game to their thousands of followers.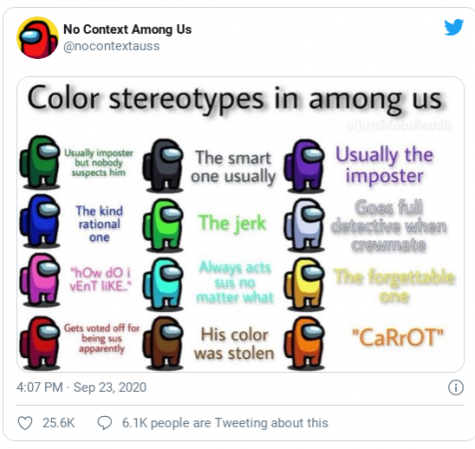 Even the Among Us hashtag on Tik Tok has almost 13 billion views. New York Times states that "Twitch fans have watched more than 200 million hours worth of Among Us gameplay on the platform so far this year."
Overall, the multi-player game has created a huge community and has helped people connect with each other from all over the world, whilst also somehow ruining friendships.
About the Writer
Erica Niehoff, Staff Writer
Erica Niehoff is a junior at West Morris Mendham High School. She loves reading, doing art, and listening to music in her free time. She is interested...