A Sub-Two-Hour Marathon: Does Kipchoge Hold The World Record Or Not?
Last October, Eliud Kipchoge ran the human equivalent to man landing on the moon. He did what previous scientists thought was impossible: running a marathon in under 2 hours.
The 34-year old ran 26.2 miles in 1:59:40, becoming the first marathoner to break the historic 2-hour mark. The marathon, dubbed the INEOS 1:59 Challenge, started at 8:15 AM and occurred in Vienna Austria on October 12, 2019. Personally, the Olympic gold medalist and four-time London marathon winner, carved two minutes off his own world record. Last year, Kipchoge finished the Berlin Marathon only 1 minute, 39 seconds over, stirring the running world to think that this once "impossible" feat would become a reality. 
On the morning of the race, Kipchoge woke up at 4:50 a.m. and had oatmeal for breakfast. After a three-hour wait that Kipchoge called "the hardest time ever in my life," he started the 26.2 mile race in the park in Danube. He was wearing a white singlet, white sleeves on his arms and white Nike Vaporfly sneakers. By the final stretch, the pacesetters, cars, and cyclists all peeled away, leaving Kipchoge to soak up all the glory as he crossed the finish line. After finishing, Kipchoge, overcome with joy, jumped into the arms of his children and wife, Grace.
Although he ran the marathon in four and a half minutes miles, which would be considered an all-out sprint for even people who are in the best of shape, his performance did not count as a true world record. This stirred controversy around the world as to whether it should or shouldn't be counted. 
Critics rushed to claim that Kipcoge's race was invalid. The sports scientist Yannis Pitsiladis commented on Kipchge's performance in an interview with The Times of London saying that it was "meaningless." The overarching theme was that the marathon wasn't a race; it was simply Kipchoge and an event planned to perfection. First, the six-mile circuit was placed along the Danube River and flat, straight and close to sea level. Additionally, parts of the road were marked with painted lines to highlight the fastest possible route, allowing Kipcoge not to lose a single second. He also was accompanied by 36 pacesetters that ran seven at a time. They ran in a 2-1-2-2 wind-blocking formation devised by an expert of aerodynamics, keeping Kipchoge on pace and protecting him from the breeze. The event's start time was also scheduled within an eight-day window and strategically picked to ensure the best possible conditions for running, so the wind was at most a minimal breeze. A car guided the pacesetters and Kipcoge by projecting a neon green laser in front of them to show the correct pace. There was also a cyclist who rode alongside the group who gave him unlimited access to a carbohydrate-rich drink while he was running. Lastly, Kipchoge was wearing Nike's controversial Vaporfly shoes which recently were almost completely banned by World Athletics because they gave an unfair advantage because they are built around a carbon-fiber plate. South African sports scientist Ross Tucker wrote that Kipchoge's shoes, "disrupted the meaning of running." Jake Riley, an elite U.S. runner also commented on the shoes, comparing them to "running on trampolines." New regulations for shoes have recently passed saying that by April 30 of this year any shoe with a sole thicker than 40 millimeters or that contains more than one plate will be banned. This level of support culminated with the fact that Kipcoge was the only person in the race, created unrealistic marathon conditions and thus his performance was not counted.
"
All those challenges carried in the public consciousness the possibility of death. This is a second-chance marketing exhibition for a plastics manufacturer and springy shoes."
— Toni Reavis
Other critics claimed that the whole ordeal was a publicity stunt. The United Kingdom-based chemical company who organized the event, INEOS, owns several sports franchises and dropped £15m into this event. The CEO of which, Jim Ratcliffe, is the richest man in Britain. Because Kipchoge had already come so close to breaking 2 hours in his marathon in Berlin, many critics say that Ratcliffe jumped on to make a profit. Many critics thought that this corporate sponsorship was evidence of how money can buy anything, including a sub-two-hour marathon. Toni Reavis, the running commentator, explained that "All those challenges carried in the public consciousness the possibility of death. This is a second-chance marketing exhibition for a plastics manufacturer and springy shoes."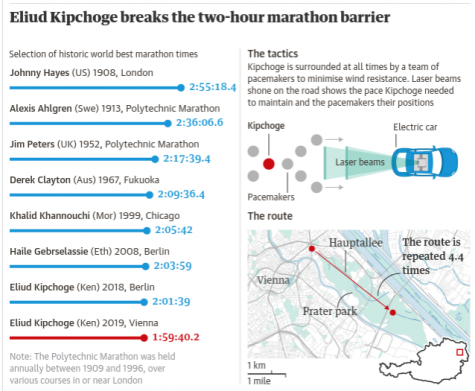 However, even with this backlash, Kipchoge was not disheartened. "Personally, I don't believe in limits," Kipchoge told TIME. Even his coach, Patrick Sang, echoed this saying,  "Records are meant to be broken, I'm sure someone down the road will want to try to break this one, but history has been made."
Kipchoge's performance may not be counted as a world record, but it certainly will inspire runners all over the world. Already his performance is rippling across the world with Ethiopian distance runner Kenenisa Bekele dropping a 2:01:41 on Berlin's course. Kipchoge's performance is a triumph of humanity and proof that humans can do anything.
"
Personally, I don't believe in limits "
— Eliud Kipchoge
The secret to running the fastest time in the world? The world may never know; but a kickstart would be what Kipchoge eats for breakfast: Oatmeal.
About the Contributor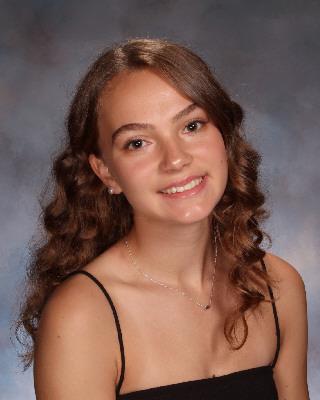 Apolline Gaspers, Writer
Apolline Gaspers is currently a Junior at Mendham High School - Class of 2021. She is a peer leader and participates in Peace Project Club, Service Club,...