"Wellness Wednesday"
A Day When Students Can Relax
Hang on for a minute...we're trying to find some more stories you might like.
School can be a very stressful place, especially high school since there is a lot of pressure from the school to do well so you can get to college, if that is something you would like to do. Many students report to feel stressed from all the work they need to do and all the pressures from outside and also inside in the school. But what are they exactly doing to help us become less stressed? Mendham high school has started to have what they call "Wellness Wednesday", a day when students can go in the conference room of guidance (the room at the end of guidance) and relax. As soon as you enter you can already feel how calm the environment is. There they have a handful of different things on tables that are proven to help relax people. Don't know what to do or how it works? Don't worry! There is a sheet of paper at each table that describes what method of relaxation there is and how to do it or what to do with it. Students are allowed to go there if they have a free period (study hall) or during lunch and are allowed to stay there for the whole period.
There are different ways of relaxing and the school does a good job at understanding that students are unique and have different ways of relaxing. Because every student is different, they take recommendations on something they could also include in the Wellness Wednesday. As soon as you walk into the room, you can feel how relaxing the environment is. They have a rock lamp that illuminates part of the room plus a nature scene on the TV while relaxing music plays. They already have some set ways of relaxation such as essential oils, colouring books, paper to journal & a guide sheet to guide you, fidget toys, calming music, a calming scene on the TV, a rock lamp, and puzzles. Many students have already gone to a Wellness Wednesday and tried it out to see if it helps them or not. It is a good idea to introduce this to a high school community because of all the stress that students go through. They also have an emotion wheel so you can identify what you are feeling or something you feel often. The following are the descriptions on what to do at each station:
"Coloring Books & Journaling
Miss the days when your only problem was choosing which color to use? Take a moment to escape to a simpler time and enjoy the relaxing benefits of coloring! At these stations you will find various nature themed coloring books that are ready to be used. More of a writer? Journal prompts and paper are available for you to reflect and decompress.
Fidgets
Sometimes all you need is a stress ball or some play-doh. At the fidgets station, you will find plenty of things to play with. Engaging your sense of touch can help you practice mindfulness and live in the present moment!
Essential Oils
Love the calming scent of lavender, the energizing scent of peppermint, or the uplifting scent of lemon? The essential oil station is perfect for you. The diffuser's light show creates a relaxing ambience while you explore and learn about different oils.
Puzzles
Puzzled about what to do with your stress? Look no further than the puzzle station! Puzzles are great for improving mood and relieving stress. It's a great activity to do with a friend!"
Students deserve to have a day where they can unwind because that might be the only time in the week that they can take time to relax and not think about schoolwork for an hour. What the school is doing is taking a big step towards mental health and that is what it is important. People are realizing more that mental health is as important as physical health. If someone breaks an arm, they give it time to heal, then why don't we give the brain time to heal? People are starting to realize that it is an important topic to tackle since many feel extremely stressed and this to not only emotional issues but physical too. If you want or think you would like for this to happen in the future, you can take the survey so the administration knows and decide if they are going to keep this going or not.
About the Writer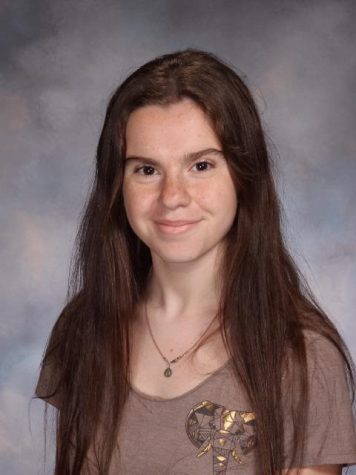 Mercedes Lombardo, Staff Writer
Mercedes Lombardo is a senior at West Morris Mendham High School in Mendham, New Jersey. Originally she is from Buenos Aires, Argentina and moved to New...