Celebrating Pride
Rachel and her two younger sisters arrived at the 2021 NYC pride parade at 1 PM after lots of traffic and months of anticipation. It was her youngest sister's first pride parade, and she was thrilled to finally be going. Her sisters came prepared with pride shirts, colorful socks, and rainbow makeup.
New York City's pride march was started in the wake of the Stonewall riots, a violent demonstration by queer activists that broke out after police raided the Stonewall Inn, a gay bar in Greenwich Village. The march was set up not just to advocate for the fair treatment of LGBTQIA+ individuals, but to bring together the queer community in a celebration of pride and expression. It is this enduring sense of community that has made it such a popular event (the 2019 Pride March drew millions of spectators), and it is this that led Rachel to bring her two younger sisters to the event this year.
"They found", according to Rachel, "a lot of freedom of expression." This was the first in-person New York City pride march since the COVID pandemic had begun, and thousands arrived to show their pride. Many of the events were held virtually, but as the city opened back up again, parades and marches did too. Rachel and her sisters did not march, but they browsed through the various kiosks set up for the occasion, buying merchandise with money they had been saving for this very occasion. Hours later they departed, with Rachel's sisters overjoyed at the experience they had just shared, and Rachel happy that she had been a part of it.
"
They found a lot of freedom of expression."
— Rachel
Rachel and her sisters shared in the long history and legacy of pride and queer activism. They enjoyed the day they spent at the march, and hope to return.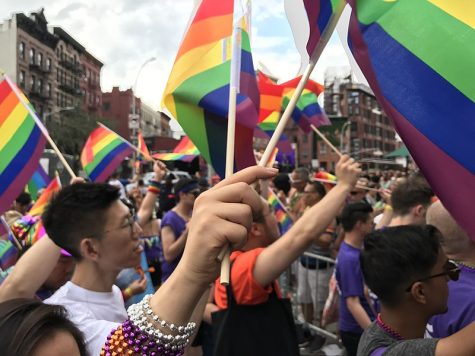 Marchers show their pride at the NYC Pride March in 2018. They marched through Manhattan and Greenwich Village, the location of the Stonewall Inn.
FULBERT, CC BY-SA 4.0 <https://creativecommons.org/licenses/by-sa/4.0>, via Wikimedia Commons