Mendham High School Student's Seaside Heights Vacation
"
We saw one fin and thought there were sharks!"
— Caitlin Standard
Seaside Heights, New Jersey provided a weekend getaway full of troublesome crowds, hurricane effects, and exciting adventures for Caitlin Standard. Over the past Labor Day weekend, Caitlin went to her friend Rachel's house at the Jersey Shore to celebrate the national holiday with a beach vacation. 
This visit was the second time Caitlin stayed in Seaside Heights with Rachel and Rachel's family, the last time she went being in October of last year. While the vacation provided several pleasant experiences, there was what Caitlin calls an "interesting crowd" that hindered some of her positive experiences. When expanding on this unruly crowd, she explained that "there were a bunch of people drinking" and doing other activities they "probably shouldn't have been doing around kids and families." Caitlin described that she and Rachel had a personal experience with this misbehaving crowd. Caitlin detailed, "We would be….walking on the boardwalk [and] this one guy called us over and was trying to give us something….it was uncomfortable." While this unpleasant and discomforting experience made for a different than expected vacation, the recent effects of Hurricane Ida created notable differences in Caitlin's weekend trip as well. Caitlin detailed, "On the ride up there we saw parking lots completely flooded" with water. She admitted that the only noticeable evidence of the storm when visiting Seaside Heights was the fact that there were less people on the beach, likely due to flooded roads. Luckily, no other damage was present.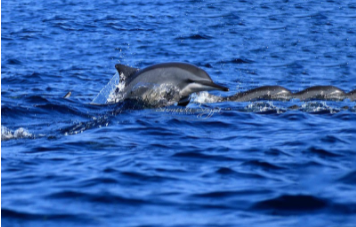 Moving on to the pleasant aspects of her Labor Day vacation, Caitlin talked about one of her favorite restaurants in Seaside Heights: Beach Tacos. "We went to go get tacos and noticed that there were a lot of people there," she explained. Caitlin and Rachel "split a burrito and tacos," and "the restaurant stood out" to her during her stay. While on the topic of restaurants, Caitlin explained that they did not eat at restaurants a lot during their vacation. Part of it was out of caution for the COVID-19 pandemic, yet she also described that, "a lot of nights we cooked out" instead of eating at restaurants. While eating at Beach Tacos certainly was one of Caitlin's vacation highlights, seeing dolphins not once, but twice in a row created lasting memories for her. "I have seen dolphins before, just not that close to shore," she details when remembering her experience. On both occasions in which she was able to see them, Caitlin explains there were entire "schools of dolphins." When first noticing the dolphins, Caitlin admitted, "We saw one fin and thought there were sharks." Fortunately, if such a danger were present, Caitlin and Rachel were out of the water when the dolphins came to visit. 
Out of everything that occurred, Caitlin says her favorite part of her vacation was "being able to sit on the beach" as well as being able to "sit in the sun." Between dangerous crowds, hurricanes, fun restaurants, and dolphins, it is clear that Caitlin's vacation to Seaside Heights was one filled with memories and adventure.