A Local Junior's Summer Hunt for Colleges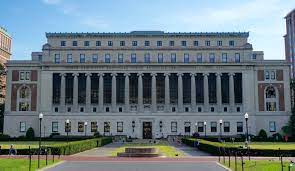 Aside from the holiday rush, summer can be one of the busiest times of the year. The Kutlu family, residents of Mendham Borough, had a single free week on their calendar and jumped at the possibility of a family trip. On an overcast day in June, Hanna Kutlu, a junior at West Morris Mendham High School, accompanied by her mother, twin brother Owen, and two younger sisters, checked another university off her list in the pursuit of securing her collegiate future. Her mother attended Columbia University for graduate school and her father for medical school.  Hanna explained that her family's history at the prestigious school sparked her interest in visiting in the summer of 2021. 
While not the first time returning to New York since the COVID-19 pandemic began, Hanna was excited to visit the largest city on the east coast once again. With the desire to be a copyright and entertainment lawyer, Hanna is "definitely considering law school after college." Still unsure of where she would pursue this dream of hers, she hoped Columbia would provide some answers. The extensive buildings and city life equally matched with beautiful gardens plus the unique layout of the grounds created an atmosphere unlike any other college campus. Not to forget the grand Butler Library combined with the unique Roman classic style architecture was simply the cherry on top.  Although located in the heart of a thriving metropolis, "The area itself is very cute too. There's a bunch of little shops and restaurants." Along with exploring Manhattan, Hanna was also able to visit the apartment her mother lived in during her college days! 
"
Now that I have been there and seen what it was like, I know that it's not really what I wanted.
— Hanna Kutlu
Columbia is a demanding but rewarding institution that is undoubtedly challenging to be accepted into. Miss Kutlu wasn't sure if New York City was the best location to attend college for her, "I could definitely see some people living there for college and really, really enjoying it but personally, I wanted a little more of that 'go to a football game', college town type feel." Even though Columbia is not at the top of her list, it "definitely helped me refine what I was looking for."  If she did not visit Columbia, it's likely she wouldn't have realized that possibly big-city schools are not what she is looking for.
After her tour in June, Hanna then visited Rutgers, "which is totally the opposite and now The University of Virginia, as well as The University of Texas at Austin, are at the top of her list. Hanna advises younger students who are starting the college process "to see as many types of colleges as you can". Try not to be entirely set on a specific college or certain location because there are a plethora of promising schools across the nation if you take the time to tour.
"
My advice is to just see as many colleges as you can.
— Hanna Kutlu