Tavishi Chattopadhyay Celebrates Pride
Tavishi Chattopadhyay is currently a junior from West Morris Mendham High School.  As a member of the LGBTQIA+ community, Chattopadhyay is passionate about expressing her identity in a safe space and finds herself naturally drawn to pride.  With close friend Erik by her side, the two made their way to both the Mendham Township and Morris County Pride events.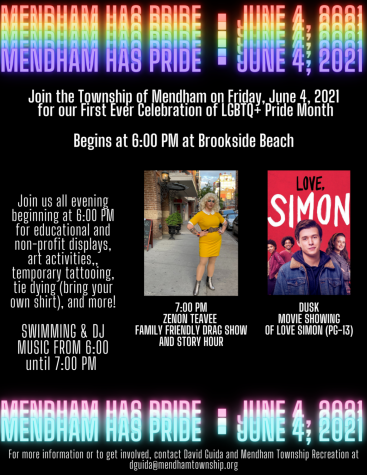 "
"not much advertisement""
— Tavishi Chattopadhyay
"Mendham Has Pride" was held at Brookside Beach on June 4, 2021 a"hidden away"[/pullquote]nd was headlined by drag queen "Zenon Teavee" alongside a dusk movie showing of Love, Simon.  Pride at Mendham was a hive of local politicians, church members, and young people looking to celebrate their individuality.  Mendham Township Mayor Sarah Neibart and council member Amalia Duarte were one of many supporters.  This event was mostly successful in spreading awareness through "the drag show talking to kids about pronouns".  On the other side, there was a lack of "awareness about what [sexuality and identity related] flags meant".
"
"hidden away""
— Tavishi Chattopadhyay
This was the town's first ever pride event, so when asked if this was a sign of Mendham becoming more progressive Chattopadhyay stated, "A little bit; there is still a way to go".  Members of the community still "[face] challenges when it comes to proclamations".  There is a popular feeling that the occasion was "hidden away" with "not much advertisement".  It was also scheduled for the day in which the Mendham High School play was premiering, so many people could not attend that they would have wanted to.  The Mendhams LGBTQIA+ members fought ruthlessly to have a pride flag raised and ran into a lot of trouble reaching success.
According to Tavishi's descriptions, Morris County Pride was run on a larger scale than Mendham.  However, they still shared similarities.  Appearances were made by freeholder candidate TC McCourt and local church leaders.  It was held at the Morristown Museum in which stalls were set up for businesses from the area and there was even a drag show that parodied Golden Girls, which Chattopadhyay exclaimed was "[her] favorite part".
Acceptance is one of the key virtues of the LGBTQIA+ community, pride is effective in teaching exactly that.  Chattopadhyay says it is about "learning that there is more than what a lot of older people will tell you".  Within that topic, people can examine how the levels of acceptance have changed in the Church. Tavishi believes, "yes, a lot of churches are seen with [pride] flags".
When asked if she could see herself being an influential part of the LGBTQIA+ community, Chattopadhyay modestly answered, "at some point, [I] have a long way to go".  Even so, she is still making waves.  Working with the GSA (Gender-Sexuality Alliance) is just one way Chattopadhyay speaks up.  Currently, the GSA is looking to make a "more inclusive sex-ed and is helping the school with an LGBTQIA+ curriculum".