Jim Kelly: The Story of an Ultimate NFL Legend
You may have heard the phrase 'Kelly Tough' once before. Maybe while scrolling through social media or listening to an NFL podcast, but do you know the meaning behind these two words? Well, it all started with one man and his truly inspirational story. His name is Jim Kelly. 
Kelly, a former Buffalo Bills quarterback, began his NFL career in 1986, after playing collegically at the University of Miami and then professionally in the United States Football League (USFL) for the Houston Gamblers. The Pro-Football Hall of Famer helped lead his team to an unprecedented four consecutive Super Bowls.  He spent 11 seasons with Buffalo while compiling a 101-59 regular-season record. Kelly is eighth in completions, tenth in yardage, and fifth in completion percentage among all NFL quarterbacks. He even holds virtually every Buffalo passing record, though current Bills quarterback Josh Allen recently eclipsed his single-season franchise record for touchdown passes last season. Allen's 34th touchdown pass surpassed the previous franchise record of 33 set with Kelly in the 1991 season. "I know he'll break all my records. He'll probably start breaking his own records," Kelly said in an interview with WGRZ-TV news anchor Adam Benigni. Along with the unprecedented Super Bowl appearances, Kelly was the spark behind eight Bills playoff appearances in nine years (1988-1996) and six American Football Conference East Division titles.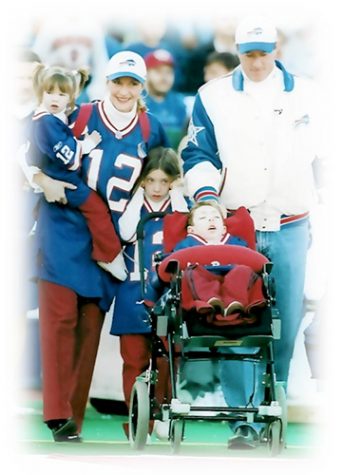 His toughness on the field is apparent off the field as well. He established Hunter's Hope in 1997 when his son Hunter was diagnosed with Krabbe Leukodystrophy, an inherited fatal nervous system disease. The foundation addresses the need for information and research regarding this disease and related Leukodystrophies while striving to "support and encourage those affiliated, and their families as they struggle to endure, adjust, and cope with the demands of these fatal illnesses." The five-time Pro Bowler then founded the Kelly for Kids Foundation in 1986 that aids disadvantaged and disabled youth in Western New York. Along with Hunter's Hope and the Kelly for Kids Foundation, Kelly also began the Jim Kelly Football Camp; he teaches and plays with young Bill fans while stressing the fundamentals of sportsmanship, teamwork, health, and nutrition.

In May of 2013, Kelly was diagnosed with squamous cell carcinoma, a form of oral cancer in his upper jaw. "I'm down at the bottom. But I will rise to the top again," Kelly said at the time." I am extremely confident in my road to recovery. I plan to tackle this challenge head-on, as we Kellys always do." Approaching the diagnosis head-on was a typical move for Kelly, as his son Hunter lost his battle to Krabbe Leukodystrophy on August 5, 2005. 
Kelly soon underwent surgery, announcing that he was cancer-free as of July 2013. However, in 2014, doctors found that his cancer spread to his nasal cavities. He endured another surgery, along with months of chemotherapy and radiation treatments, before being declared cancer-free later that year. Almost four years later, Kelly told the world his cancer had returned yet again on March 1, 2018. His doctors performed a 12-hour procedure to remove it and reconstruct his upper jaw. The Hall of Fame quarterback's wife Jill Kelly shared an Instagram post of her husband and one of his brothers giving a thumbs up to the camera on July 25, 2018. "MRI and CTScans are clear," she wrote. "Still working through major pain management, but PRAISE THE LORD, no evidence of cancer," she captioned the post. Jim Kelly has been cancer-free ever since.

On July 18, 2018, Kelly was honored with the Jimmy V Award for Perseverance at the Excellence in Sports Performance Yearly Awards (ESPYS). The award is named after Jimmy Valvano, the late North Carolina State men's basketball coach. It is presented annually to a "deserving member of the sporting world who has overcome great obstacles through perseverance and determination." Valvano received the Arthur Ashe Courage Award at the 1933 ESPYS. That night, he gave a touching speech less than two months before he lost his battle to adenocarcinoma, a form of cancer. When Kelly took the stage, he delivered a memorable speech that left a lasting impact on the sports community. 
"Make a difference today for someone who is fighting for their tomorrow," he said. "I just urge anybody out there, if you have somebody out there that's suffering, it doesn't have to be cancer. It could be somebody not having a good day. It could be your mom or your dad. It could be your grandparents. What you say to them, the smile that you have on your face, that could be the difference in them making it to the next day. Remember that. Always, always persevere. Like Jimmy V said, 'Never, ever give up.'" 
To this day, Kelly fans know that the Buffalo quarterback will never give up and will always stay 'Kelly tough.'
About the Writer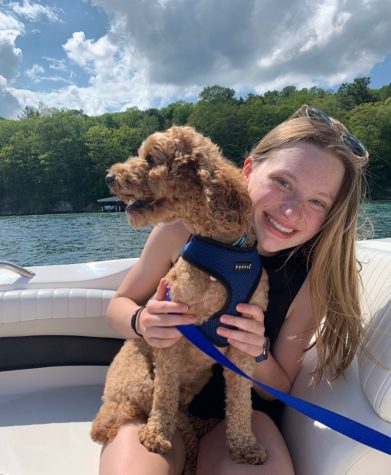 Emma Stark, Co-Editor for Sports
Emma Stark is a sophomore at West Morris Mendham High School. She plays volleyball for Mendham and for Garden State Elite. She also sings and plays the...