Lewis Hamilton Wins the Bahrain Grand Prix in Close and Controversial Last Five Laps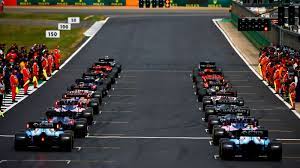 In Europe, Formula 1 racing is as big, if not bigger than Nascar is in the states. These rocket-ship-like cars can hit a top speed of 220 mph and go 0-100km/h in just 2.6 seconds. 
Just like any professional sport you have your superstars. In basketball it's Lebron James, in football it's Tom Brady, and in the world of Formula 1 you usually have a whole pool of guys who are always contenders to win a race. Those men are usually Lewis Hamilton, Max Verstappen, and many others. Their reflexes and knowledge of the motorsport are shown on the track and on their career resume. 
March 27th was the first Formula 1 race of the season, in Bahrain. Lewis Hamilton and his Mercedes-AMG-Petronas racing team crossed the finish line first, with Max Verstappen and his Red Bull Racing team coming in a close second. 
The last five laps of the race were somewhat controversial. Nonetheless, Hamilton deserved the win. Hamilton was running on old tires, which means he had less grip when rounding corners which could have jeopardized his win. Max Verstappen and Lewis Hamilton battled it out, both racers constantly traded places in the final laps, overtaking and over-breaking to try and edge the other racer out. There were various moments where Hamilton exceeded the warning track, yet the stewards (referees) of the Federation Internationale de l'Automobile (FIA) didn't give him any warnings or penalties for these 'errors.' Hamilton's ability to barely stay within the rules gave him the leverage over Verstappen in this win. 
Many people on Instagram have expressed that they are mad about the result, that Hamilton shouldn't have won, and that Hamilton should've been given a 3 second time penalty for exceeding the track, thus FIA rules handing Verstappen the win on a time technicality. However, this was not the case and Hamilton was still given a clean race win. The saying, "maFIA" coursed through comments on Instagram under the Red Bull racing team and Mercedes racing team's posts. 
It's easy for one to blame the FIA for Hamilton's win and Max Verstappen's second-place finish, since Verstappen was leading for most of the race. The fact is, it's very impressive how Hamilton took the risk to keep old tires, which hindered his turning ability and speed, yet was still able to pull out a win against Verstappen who has a faster car and fresh tires. With all these things going against him, Hamilton was still able to outpace Verstappen.
As things will start to heat up in the latter stages of the season, it's no doubt that these races will be even more competitive and more racers will finish in first place. It's most likely that just like Bahrain, Hamilton and Verstappen will have many more battles on the track as they are both very skilled drivers.