NFL Owners Approve an Expanded Regular Season of 17 Games Starting this Fall
Just last month, the NFL formally announced that the league's 16-game schedule would expand to 17 games for the 2021 season – a move that team owners have been preparing for over a year. The last time the NFL expanded its regular season was back in 1978, extending the regular season from 14 to 16 games. That year, the league consisted of an odd number of franchises, resulting in one idle team each week. The NFL resolved the issue by creating two wild-card teams, another round of playoffs, along with drastically changing several rules to increase passing and scoring. 
Now, 43 years later, the NFL has evolved its schedule in response to the recent 11-year media rights agreements signed with broadcasters and streaming services, like CBS, NBC, FOX, ESPN, and Amazon. Collectively worth around $110 million, it will not take effect until 2023. However, both the deal and the seventeenth game will aim to recoup the billions of dollars in revenue lost with the reduced fan attendance in 2020.  
NFL players agreed to the additional game as part of their 2020 collective bargaining agreement (CBA) – a written legal contract between an employer and a union representing employees. This agreement gave the league the option to expand as soon as the 2021 season. Although, the seventeenth game isn't the only change being made to the NFL season. 
The preseason will be shortened from four games to three to maintain compliance with the CBA, limiting the league to 20 preseason and regular-season games. This year's regular season will begin on Thursday night, September 9, and end on January 9, 2022. Each team will receive one bye week as usual, while Super Bowl LVI, taking place in Los Angeles' SoFi Stadium, will be pushed back one week from February 6 to February 13. 
Starting in 2022, the NFL also guaranteed that the enhanced season would allow each team to play an international game in Canada, Europe, Mexico, South America, or the United Kingdom at least once every eight seasons. 
According to ESPN Staff Writer Kevin Seifert, NFL Commissioner Roger Goodell said the decision to expand the season was a "monumental moment in NFL history." Godell referred to the league's data, revealing the highest rate of player injuries occurring in the preseason. "What we are…doing is following the data and following the science to make sure that we are doing things [well] both from a health and safety standpoint as well as seeking to get better in every way," he said.
The full 2021 schedule will be released later this spring, along with the fast-approaching NFL draft that will begin at 8:00 p.m. eastern on Thursday, April 29, and will end on Saturday, May 1. Although it seems far, fans will be gathering around their televisions to watch NFL football before we know it.
About the Writer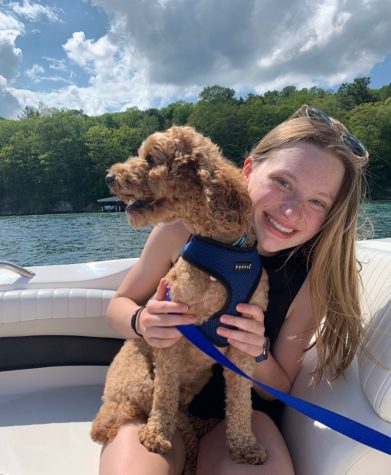 Emma Stark, Co-Editor for Sports
Emma Stark is a sophomore at West Morris Mendham High School. She plays volleyball for Mendham and for Garden State Elite. She also sings and plays the...