Bindi Irwin Welcomes Her Baby Girl In To The World
Between heartfelt Instagram posts, and adorable family photos, tears are bound to be shed.
Yesterday–March 25th, 2021– Bindi Irwin, daughter of Steve Irwin, and husband Chandler Powel welcomed their first child. The couple officially announced the birth of their daughter on Instagram, Friday. "Happy first wedding anniversary to my sweetheart husband," Bindi wrote in the caption of her post, "and the day of birth to our beautiful daughter." In the sweet announcement the
View this post on Instagram
daughter's name, Grace Warrior Irwin Powell, was also unveiled. Irwin then explained how the pair landed upon the name. "Grace is named after my great-grandmother, and relatives in Chandler's family dating back to the 1700s. Her middle names, Warrior Irwin, are a tribute to my dad and his legacy as the most incredible Wildlife Warrior. Her last name is Powell and she already has such a kind soul just like her dad." 
It is no surprise that Chandler Powell, 24, is already gushing over his baby girl, writing how, "After waiting for you to arrive for the last nine months, finally meeting you has been the best moment of my life." Born on the couple's anniversary, the pair continuously praised and joked about how "She chose the perfect day." On top of the beaming couple welcoming Grace into the world via social media, Robert Irwin, Bindi's 16-year-old brother, also joined in. Posting pictures of him holding his new niece, and of the new family of three, Robert captioned the images by saying, "Let the uncle adventures begin! Love you so much,
View this post on Instagram
Grace," he wrote. "This little one picked the two best parents in the entire world. The most incredible, caring and strong Mum… and the funnest, coolest and kindest Dad. Love you three so much – I can't wait for this exciting journey ahead!"
Bindi first announced her pregnancy back in August 2020, maintain a reliably active social media profile throughout. In September she posted an image of her sonogram, explain how she plans to pass on her same love and devotion to protecting wildlife. But, the most notable update of her pregnancy is when the couple decided to pose and recreate an iconic photo of Bindi's parents, Steve, and Terri. Here, Chandler took the role of Steve, posing leaning down, and kissing Bindi's baby bump. "Third trimester love," she wrote on her Instagram.
In the midst of a pandemic, the thing the world needs to help get it back on track is another Irwin brought into. the worst. As one of the kindest, more genuinely families out there, there is no doubt that Grace is going to be raised on pure love and devotion
About the Writer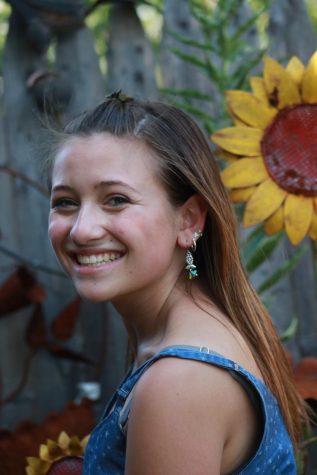 Annie Shafran, Editor in Chief
Annie Shafran is currently a Junior at West Morris Mendham Highschool. She is involved with Relay for life and she is a Peer Leader. In her Sophomore Year,...