Is Emma Watson Retiring From Acting?
From the Harry Potter franchise to Perks of Being a Wallflower, Little Women, and Beauty and the Beast Emma Watson has played many iconic roles that we have all grown to love and adore. Rumors have been spreading on the internet that Watson's acting career is coming to an end. In the past couple of days, her publicist has announced that her career is "dormant" and that she "will not be taking on any new commitments".  However, nothing has been confirmed.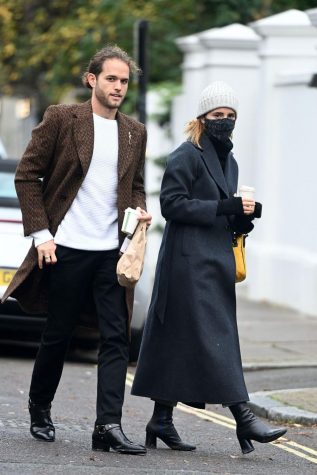 Here is what we know. Watson does have a net worth of $80 million dollars so she is definitely not struggling financially and can have the luxury of early retirement. Another contributing factor to her possible retirement that people have been speculating about is that she wants to settle down with her fiance. She and her fiance Leo Robinton have been dating for 18 months now and are planning on getting married. This can also be a huge reason why she is maybe stepping out of the limelight because she wants to focus on her new life with her fiance and possibly start a family. Her fiance also makes a lot of money selling legal cannabis in LA so the two will not have any financial issues to worry about as she steps into retirement. We also haven't really seen Watson take on many new acting roles which could be another indicator that she is heading into retirement. 
As the news of Watson's potential retirement hit the internet, many people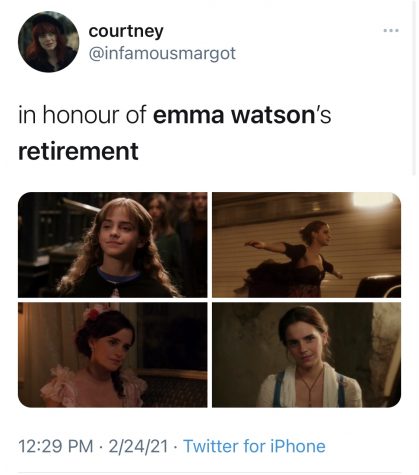 were saddened by this possibility, including me. On Twitter, many fans have taken to expressing how they feel with one Twitter user saying "Emma Watson has given us some of the most iconic roles. I'm wishing her all the best for the future. She deserves it". Another person states that "I actually cannot believe Emma Watson is retiring…it's devastating! However, I fully respect her choice and hope to see her do amazing things, whatever she chooses :)" We have to remember that Emma has been acting since she was 11 so it only makes sense that now hitting 30 years old that she is probably burned out and deserves to make whatever decision that will allow for her to thrive.
Nothing has been totally confirmed yet but it does look like it may be heading this way. Finding this out has been both shocking and sad but Emma Watson deserves to be happy in her next step in life and we should all support and respect her decision. Hopefully, we will hear a statement from her about this and address this rumor to set us all at ease. Emma Watson is definitely one of the best actresses of this age and it would be a shame to see her end while she still has so much potential.