J.J. Watt Team Speculations: What's Next for the Former Houston Texans Defensive End?
On February 12, the Houston Texans released defensive end, J.J. Watt. Although the release was mentioned at the beginning of the off-season, few had expected Houston to part ways with the face of their franchise, especially a player so beloved in the community. After spending ten seasons with the Texans, Watt approached the McNair family, the team's owners, and asked for his release. "We have mutually agreed to part ways," Watt announced in a video posted on his Twitter account. "I came here 10 years ago as a kid from Wisconsin who had never really been to Texas before. Now, I can't imagine my life without Texas in it."
The statistics prove that Watt has made a legendary impact with Houston on the field. He is a highly coveted player who has set Texans' franchise records "in sacks (101.0), tackles for loss (172), quarterback hits (282), and forced fumbles (25) to go with 531 total tackles, 61 passes defensed and 16 fumble recoveries," writes Jeff Kerr of CBS Sports.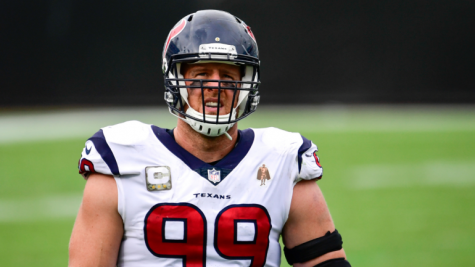 Not only can this impact be seen on the field, but off the field as well. Watt raised 37 million dollars in Hurricane Harvey relief in 2017 and established the Justin J. Watt Foundation back in 2010- a foundation based in Wisconsin and Texas that assists middle schools in providing students with safe activities and sports. Last year, Watt and his wife Kealia Ohai donated $350,000 to a Houston food bank to help aid relief efforts during the Covid-19 outbreak. 
The three-time NFL defensive player of the year is now a free agent, meaning he can sign with any of the 31 remaining NFL teams. Among the dozen teams expressing interest in Watt, these five teams stick out the most. 
The Pittsburgh Steelers are one of the betting favorites to sign Watt. His brothers star outside linebacker T.J. Watt and running back Derek Watt play for Pittsburgh, making the team of interest to J.J.. There is also a possibility of Watt returning to Wisconsin and playing for the Green Bay Packers, the team he watched growing up in Pewaukee, Wisconsin. Adding Watt to a defensive front featuring defensive tackle Kenny Clark and outside linebacker Za'Darius Smith could create what Bill Huber of Sports Illustrated describes as a "formidable defensive" under the new leadership of defensive coordinator Joe Barry.

Yet, both Pittsburgh and Green Bay are facing significant financial barriers setting them apart from other teams. With a projected salary cap of $180.5 million, the Packers are $28.2 million in the red – the fifth-most in the league. The Steelers are even worse at fourth-most – $30.6 million over the cap. The salary cap intends to place specific limits on the amount of money a team can spend on player salaries. Both teams have exceeded the limit substantially. 
The reigning Super Bowl champions, the Tampa Bay Buccaneers, have $15.2 million in cap space. According to Sports Illustrated, the Bucs would be a logical choice for Watt since he is looking to add a Super Bowl ring to his resume. On the other hand, Cleveland.com's Mary Kate reports that Watt is "seriously considering" joining the Cleveland Browns. They have everything Watt is looking for in a team: "available cash, a strong, supportive staff and recent on-field success that proves the franchise is moving in the right direction." 
However, the Tennessee Titans are in desperate need of improving their pass rush. Watt would boost their defensive front and give it the energy it needs to improve this weakness. In 2017, Titans head coach Mike Vrabel formerly coached the Houston defense. He is familiar with utilizing Watt as the main component of the unit. With that said, Vrabel could craft a game plan centered around Watt that re-emerges Tennessee as one of the top teams in the American Football Conference (AFC). This year's salary cap does pose a struggle to the team. Despite having a little over $2 million in cap space, the Titans cannot afford to overpay for Watt since the team has a list of key free agents needed to bolster the defense. 
After coming off an impressive 13-3 season, the Buffalo Bills are the latest team to show interest in the free agent. ESPN's Kimberly Martin tweeted that Buffalo inquired about Watt. The interest between them is "definitely mutual." Buffalo also utilizes a defensive front of four down linemen, something that could be attractive to Watt. The sense of community and family Watt established in Houston is present within Buffalo, another attractive feature of the team, along with the fact that they are Super Bowl contenders.
Even though there is no exact knowing when J.J. Watt will make this career-defying decision, he will always hold a special place in the hearts of Texans fans, no matter which team he signs with.
About the Writer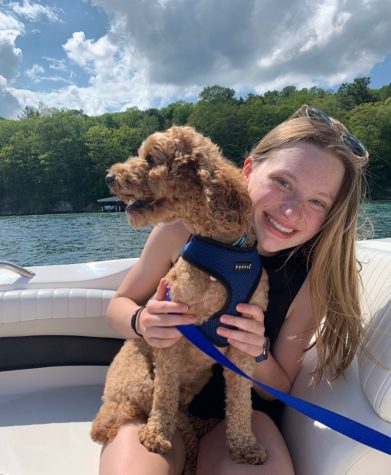 Emma Stark, Co-Editor for Sports
Emma Stark is a sophomore at West Morris Mendham High School. She plays volleyball for Mendham and for Garden State Elite. She also sings and plays the...