Britney Spears' Ongoing Battle With Her Father
Last Friday, the New York Times released the latest episode of their docu-series on Hulu and Fx entitled "Framing Britney Spears". This episode focused heavily on the past misogynistic treatment of 39-year-old, pop-star, Britney Spears, as well as her journey through obtaining and fighting her conservatorship. Between the bizarre legal loopholes highlighted in the documentary and the co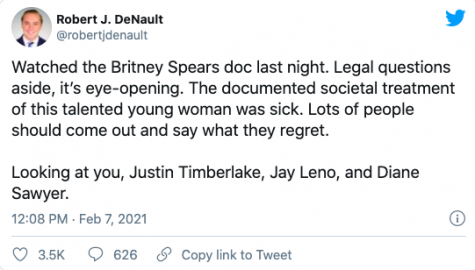 nstant belittling of Spears, the documentary quickly rose to popularity in the address to the raw truths of Hollywood and fame. However, while the documentary concludes on a seemingly hopeless note, there have recently been developments in the Spears Conserveship case. But to understand the recent news, it is important to understand what events led up to all of this.
During her time as a popstar, Spears sparked to fame, not holding back. She became the youngest female artist to have five albums debut at number one. She also became the only act in the Soundscan era to have four albums debut with 500,000 or more copies sold. She is most known for hit songs like "…Baby One More Time", "Toxic", and "Oops!…I Did it Again".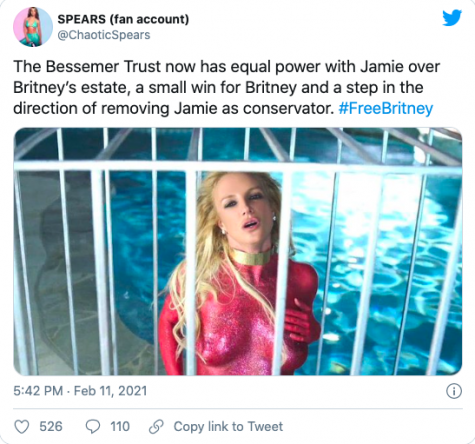 Throughout her entire career, Britney has constantly been a tyrant by the media. Constantly being sexualized and degraded. The documentary focuses heavily on the horrid treatment Spears received during her career. NY Times culture critic Wesley Morris summed it all up perfectly, explaining how, "The way that people treated her, to be very high school about it, was like she was the school slut and he was the quarterback."
For the past thirteen years, Britney Spears has been in a legal conservatorship. Typically, conservatorships are granted to the elderly who are unable to care for themselves and need others to make decisions for them. Typically, someone close to the conservatee is granted to be in control of the conservatorship, giving them total control of the other person's livelihood.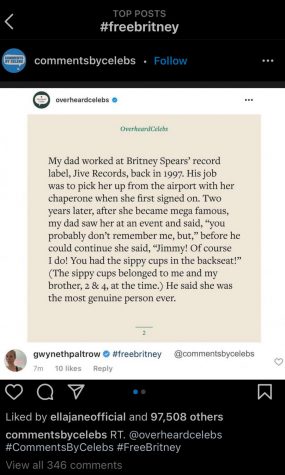 In 2008, Britney had a chain of public, mental health breakdowns, frequently documented by paparazzi. At this time, Spears' father was granted conservatorships. She has never outwardly spoken up about the impact or her thoughts on the conservatorships. 
Over her time in the conservatorship, Spears' father, Jaime, has been her conservator. Jamie Spears has claimed that the current arrangement saved his daughter from financial decimation. That his "sole motivation has been his unconditional love for his daughter and a fierce desire to protect her from those trying to take advantage of her," (laist.com). However, with the release of the documentary, questions around the father's motives and authenticity have been questioned. As Britney's conservator, Jaime controls nearly every aspect of her life; where her money goes, who she can and cannot see, when and if she will tour. This means that for almost fifteen years, Britney Spears has not been in control of her own life.
But, that has recently changed. As of August 2020, Britney Spears publicly took the conservatorship to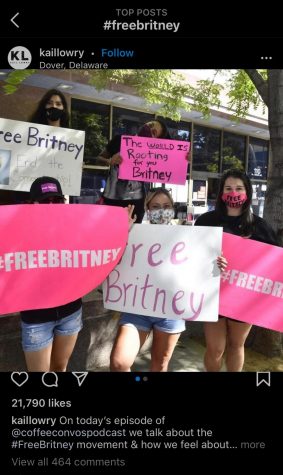 the courts, refuting it. Spears' said that she will not work until the conservatorship is lifted. At the November hearing, her lawyer said that she is "afraid of her father" and "will not perform again if her father is in charge of her career." Not asking for complete control over her life, but simply wanting to gain more freedoms back, Britney's main request was to not have her father involved in any part of the conservatorship. This was requested from day one of the conservatorship, obsolete and ignored. In November 2020, the judge declined Britney Spears' request to remove Jaime as the conservator. But the judge did add a "corporate fiduciary" called Bessemer Trust, as co-conservator; requested Spears herself. Montogomery's role was expanded to September 2021 as of December 2020. 
Jaime Spears objected to the ruling that enacted Bessemer Trust as a co-conservator. As of yesterday, February 11, the judge overruled those objections and until further noticeBessemer Trust and Jamie Spears will act as co-conservators. Samuel Ingham, Britney Spears' lawyer, explained that now the two parties will have "an equal division of responsibility, in the hopes that they [will] sit down and figure out together the best way to handle this complex estate for the benefit of my client," (Variety). The judge has set another hearing date for March 17.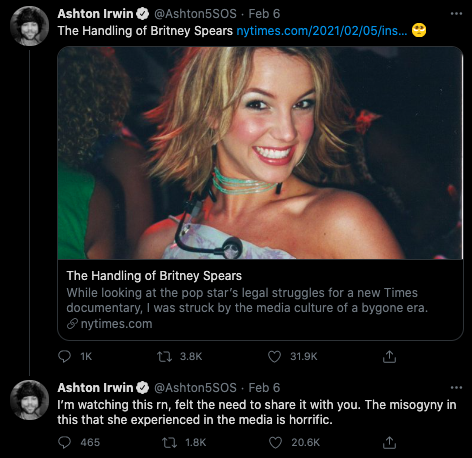 Throughout all of this, a movement has begun to form #FreeBritney has gained traction, Spears' only saying in recent times that she is grateful for overwhelming support; furthering her public want of freedom. Fans have protested outside multiple hearings in downtown L.A. in support. In April 2020, there were also protests in West Hollywood. While Thursday's decision was seen as a small win, the group's overall goal is to support Britney's journey to freedom from the conservatorship. Celebrities and members of the movement alike have begun to speak out and post about the movement and Britney as a whole, causing more attention towards the upkeep of staying in the loop of the case. 
There is no telling if Britney Spears will ever truly be free, or f she will ever regain the popstar status she once held. But her recently fighting of mistreatment is a sign that things may be changing for Spears in the near future. 
#FreeBritney.
About the Writer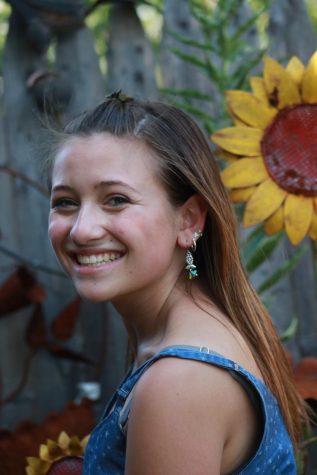 Annie Shafran, Editor in Chief
Annie Shafran is currently a Junior at West Morris Mendham Highschool. She is involved with Relay for life and she is a Peer Leader. In her Sophomore Year,...