Sarah Thomas Making NFL History as First Female Super Bowl Official
While the Kansas City Chiefs and Tampa Bay Buccaneers face off in Super Bowl LV, Sarah Thomas is set to make history. After being named the first full-time female NFL official in 2015 and the first female to officiate an NFL playoff game in 2018, Thomas will take her career a step further by becoming a part of the officiating crew for Super Bowl Sunday.
Sarah Thomas will make history yet again as the first female Super Bowl official. "Her elite performance and commitment to excellence [have] earned her the right to officiate the [game]," said NFL Executive Vice President of Football Operations, Troy Vincent. 
Sarah Thomas first began officiating in 1999 at a varsity high school football game. She then worked her way to the collegiate level and in 2007, was hired by Conference USA, an intercollegiate athletic conference. That same year, she worked her first college football game (Memphis vs. Jacksonville State) when she became the first female to officiate a college football game. Eight years later, Sarah joined the NFL and made her debut on April 8, 2015, in a Chiefs-Houston Texans game. That same year, she officiated several training camp practices for the New Orleans Saints. She earned high praise from New Orleans coach Sean Payton. In 2015, Payton told ESPN: "She's ready. She's gonna do well. It's not because it sounds good or it's a PR move. We've watched her grow, and she's gonna be outstanding. She's got the right demeanor. She's sharp." Since then, Thomas has officiated 92 games in her NFL career, including three playoff games.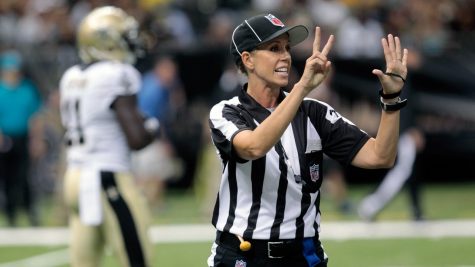 This upcoming Sunday, Thomas will call the game alongside some of the top officials in pro football: Carl Cheffers, Fred Bryan, Rusty Baynes, James Coleman, Eugene Hall, Dino Paganelli, and Mike Wimmer. Cheffers, officiating his 21st season with the NFL, will lead the seven-person on-field officiating crew at Raymond James Stadium in Tampa Bay, Florida. The crew includes Thomas as Down Judge, a position she has held for the past four seasons. According to the NFL, the group of officials holds 88 years of NFL officiating experience and 77 combined playoff game assignments, including past Super Bowls. Their work over the course of the 2020-2021 season "has earned them the honor of officiating the biggest game on the world's biggest stage," Vincent commented. "They are the best of the best."
Super Bowl LV  will be a day that will go down in NFL history forever, not only for Sarah Thomas but for other women aspiring to take on positions in the male-dominated sports industry. In an NFL Instagram post, Thomas says: "Being the first female…means a lot to me. I have a precious little girl that is watching her mom not just on the football field, but daily at home and I want her to know…seeing it, believing it…you can do it. It's just so meaningful. I never set out to be the first in any of this. I'm truly honored and humbled to be a part of this year's Super Bowl crew."

About the Writer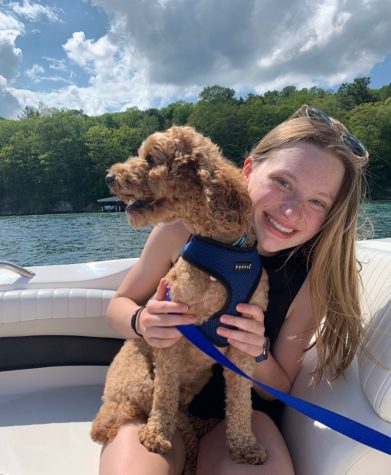 Emma Stark, Co-Editor for Sports
Emma Stark is a sophomore at West Morris Mendham High School. She plays volleyball for Mendham and for Garden State Elite. She also sings and plays the...