Mendham High School Plans to Modify Procedures as Surrounding Schools Shut Down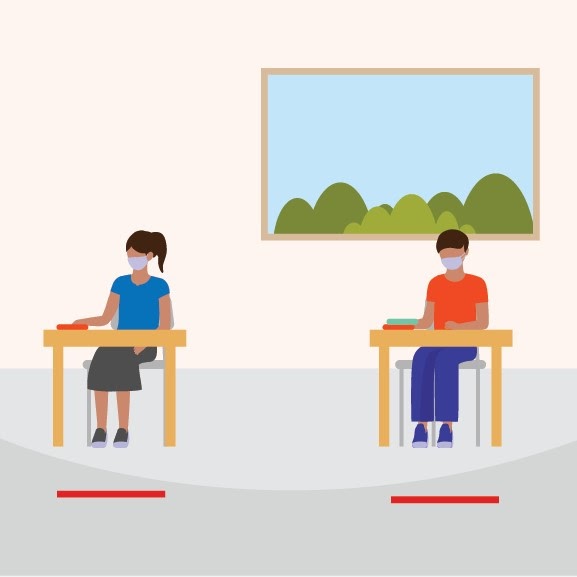 In a December update emailed to all parents of the Mendham High School community, Principal Steve Ryan has confirmed the rumored switch to a two-cohort system effective "at some point in the second semester if conditions flatten or improve". Presently, the high school has reported a minimal amount of positive Covid-19 cases, each time effectively distributing information concerning the conditions of the case and the measures in place to prevent spread. Although the Department of Health announced, in their November Activity Level Report, Morris County's shift from moderate (yellow) to high (orange) risk, the school plans to continue observing the state of infections and accordingly facilitate a transition between cohort models.
The administration recognizes the upward trend that continues to overwhelm public health data, yet has taken forward initiative to increase the number of students in the building by approximately ⅙ of the student population. The change is tentative and entirely dependent on the successful management of the virus in the upcoming weeks. Sophomore Frances Miller, a student at Mendham and ardent follower of CDC guidelines, believes the change to be nonsensical, as "other schools are closing, so increasing the number of in-person students stands in stark contrast to the behaviors of similar establishments". Some Mendham and Chester schools have in fact temporarily closed due to an escalating number of positive tests within students and staff, which has received praise as being considerate and cautious as well as criticism as being exaggerated and ridiculous. After a second staff member of Mendham Township Middle School tested positive for coronavirus, Superintendent Salvatore M. Constantino informed parents of his decision to close the school for a period of 14 days. This follows state health guidelines, which suggest a school close "when there are two COVID-positive cases within 14 days across multiple classes in one school and there is no clear connection between the two cases". The school planned to return to a hybrid model on Tuesday, December 14, but has recently announced a continuation of this closing until early January. Although rumors have surfaced of the high school shifting to all-virtual learning, the administration remains steadfast in the attempt to hold off this possibility for as long as possible, evidently recognizing the benefits of physical learning rather than doing so through a screen. The staff, janitorial and otherwise, must be given showering accolades for their management of the virus and their dedication to creating the best possible environment in seemingly the worst possible circumstances: enforcing health guidelines, displaying hand sanitizer and wipes at every classroom door, and providing all types of support to students in need during this time of difficulty.