Tom Felton Hosts Harry Potter Reunion
In honor of Harry Potter and the Sorcerer's Stone turning 19 years old on November 14th, Tom Felton who plays Draco Malfoy in the series decided to round up all of his former castmates and host a virtual Harry Potter Reunion for charity on the platform Veeps.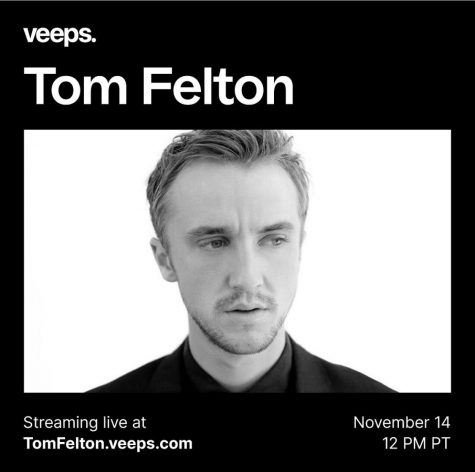 Felton was joined by Daniel Radcliffe(Harry Potter), Rupert Grint(Ron Weasley), Bonnie Wright(Ginny Weasley), Evanna Lynch(Luna Lovegood), Jason Isaacs(Lucius Malfoy), James and Oliver Phelps(Fred and George Weasley), and many more!
Tom Felton posted on all of his platforms links to purchase tickets to view the live stream and the money that was made was donated to The Liv Project, a creative collective that's goal is to fight against youth suicide. 
The event started with Felton playing his guitar and welcoming "Muggles and Mudbloods of all ages". He then went into talking about some of his favorite contributions to the very popular TikTok trend and hashtags #DracoTok and #PottahChallenge, which was created by Tom Felton to see who could do the best impression of his character, Draco Malfoy. He then went on to answer questions from fans including things like what his first memory on set was, and how his favorite movie for his character was the sixth film, Harry Potter and the Half-Blood Prince because Draco finally started "being a major character".  Felton then continued to reminisce on his time on the films with his dog Willow by his side.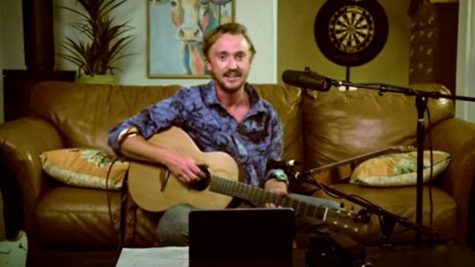 The event then went into what 19 years meant to all of Felton's castmates. The cast had pre-recorded videos reminiscing on their favorite memories while shooting the films. Some even shared behind the scene stories! One particularly funny behind-the-scenes story was when Rupert Grint talked about how he could never stop laughing on set and it would often happen at inappropriate times including the time when they were filming Dumbledore's funeral. He said "For some reason, I found that absolutely hilarious and once you start laughing it's very hard to stop because it just becomes a thing,' said. 'I had a particularly bad reputation. They used to call me "Go Again Grint" because I couldn't do anything without doing it 20 times." 
The star of the franchise, Daniel Radcliffe(Harry Potter), joined the live stream and talked about how crazy this experience was for him and how "It seems impossible that all that time has passed it all obviously feels very fresh still cause they were my formative years", and how "It has been amazing to watch the whole thing continue to grow after the films finished". This event was an exciting reunion for many Potterheads and gave many fans a smile during these difficult times while also raising money for an important cause.