The School Musical and Play For This Year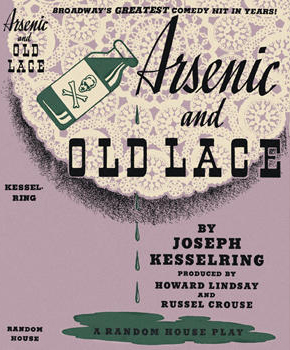 With all the craziness this year, there is one thing that does not rest, theater! This year, the school is still putting on a play and a musical with social distancing and masks of course. The play this year is Arsenic and Old Lace and the musical is Anastasia.
Arsenic and Old Lace is a dark comedy that was written in 1993 by Joseph Kesselring. The play features the Brewster family who are now maniacs. The lead, Mortimer Brewster is a drama critic who has to deal with his murderous and strange family and the police all while debating whether he should marry the woman he loves. This play was later adapted into a film and was revived several times as a play. The casting for the play finished and the cast and crew have started work on it. 
Anastasia is a musical adapted from the book by Terrence McNally along with the 1997 film. The story is partially about the Russian Grand Duchess, Anastasia Nikolaevna and how she could have escaped her family's execution. However, the play follows Anya, an amnesiac orphan who bears a striking resemblance to the Grand Duchess. Anya strikes a deal with two con men, who want to use her likeness to the Grand Duchess for their own gain, in order to find some traces to her biological family. Marcelle Maurette states that through his decision, "Anya ends up becoming involved in a scam to collect ten million pounds that were meant for Anastasia"(Maurette). Many remember Anastasia from its feature on Broadway, which started on April 24, 2017 and concluded on March 31, 2019. Casting for this musical isn't done until January, so for any who want to join, do so soon. This looks to be a promising musical for students to participate in and watch.
For their performance, the play and musical will be performed in the auditorium as usually, with a limited audience in the auditorium. The performance will also be livestreamed for people sitting socially distant outside. Even with coronavirus restrictions, the play and the musical are working hard and are no doubt going to be a success.