Did Carole Baskin Kill Her Husband?
This is an opinion piece. Anna Brodhead is a senior at Mendham who writes for school news. All of the views expressed in the following editorial are her own and do not necessarily reflect the views of The Patriot.
Ever since Tiger King  took over Netflix 2 months ago, people constantly ask the question: did Carole Baskin kill her husband? The answer to that question, yes.
Now I know that I shouldn't trust everything that a gun-toting redneck hillbilly from Oklahoma says, but after having done some research of my own, it seems almost impossible to think that it was anyone else's doing but Carole's.
Let's start from the beginning. Carole Baskin and Don Lewis met each other after Carole had ran away from her then abusive husband. At the time, Lewis was married to his first wife and they had three kids together. When Lewis met Baskin while she was running away, he immediately took her in and they began to have an affair. During this period, Baskin became one of Lewis' many girlfriends that were used for sex and money. The two's relationship continued for several years while they were both still married to their previous spouses. They got divorced from their individual marriages in 1990 and then married each other in 1991. The following year in 1992, they founded what is now known as "Big Cat Rescue".
"
Baskin became one of Lewis' many girlfriends that were used for sex and money"
Before escaping from her first husband, Baskin had not been a part of the big cat community. She didn't have any exotic animals and lived a pretty traditional life. Lewis, however, was a wealthy man with a lot of investments, real estate, and "sex buddies" in Costa Rica. Baskin and Lewis began to butt heads almost immediately after "Big Cat Rescue" was founded. Originally named "Wildlife on Easy Street", Lewis wanted it to be a breeding and petting zoo: a money maker, while Baskin wanted it to be a sanctuary – which it eventually became. During the next few years, Lewis would take frequent private trips to Costa Rica to have affairs with whoever he could find. These trips became extremely common and he even told his family he was thinking of moving to Costa Rica sometime in the future. This is when the story gets good.
"In early 1997,  Lewis began transferring ownership of his properties in Florida to a Costa Rican company he controlled. In the days leading up to his disappearance, Lewis had bought a plane ticket to Costa Rica and was loading equipment onto a truck destined for Miami." During this time, Baskin stated she saw Lewis' mental health deteriorating. She saw a noticeable difference in him and didn't really know what was going on; Baskin pegged on Alzheimer's Disease, but Lewis' attorney said otherwise.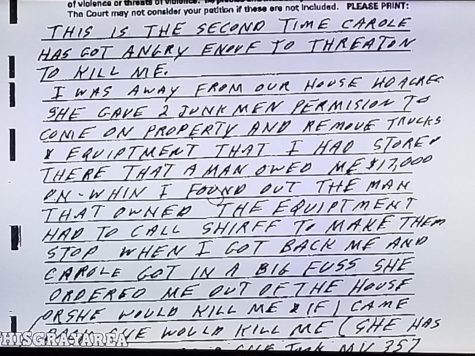 In the summer of 1997, Lewis filed a request for a restraining order against Baskin (pictured on the right), "claiming she had threatened to kill him and had hidden his gun to prevent him from protecting himself." The request was rejected. After the incident, Lewis continued to live with Baskin despite having new, obvious tension between the two of them. During this time Lewis had also vocalized several times that he wanted to divorce Baskin, but she thought it was a joke.
Before getting into the claims of Baskin killing her husband I do want to address the fact that Lewis was also not perfect in this situation. He was unfaithful to his first wife and family and to Baskin. He was okay with the mistreatment and exploitation of exotic animals and did everything in his life with the goal of money. To say that Baskin's anger towards Lewis was undeserved would be wrong; Lewis did a lot of bad things which garnered him to be looked at badly by a lot of people. Now with that out of the way, let's take a look at the disappearance.
Lewis disappeared on August 18, 1997, only one month after filing the restraining order against Baskin. He was reportedly last seen leaving his house to make an early delivery at 6 a.m. Two days later on August 20, "his white 1989 Dodge Ram Van was found at the Pilot Country Airport in Springhill, Florida, 40 miles away from the sanctuary." This didn't seem too unusual as Lewis owned several private planes and would fly them out of this airport even though his pilot license was suspended. When investigators came across his van they found no incriminating evidence against anyone. All they found were the van keys on the floor and that it had been parked there for a few days – makes sense. The investigation then moved to Costa Rica, where after five days investigators found "no foul-play" and decided to head back to Florida.
"Lewis left behind holdings estimated at more than $5 million… most of [which] was left to Baskin." Only four short years after his disappearance, Don Lewis was declared dead. This timeline is interesting as he was declared dead only one day after the four year threshold was met; meaning- at the time, someone had to have been missing for four years to be declared dead. Baskin filed for Lewis' death at four years and one day. Two years after his "death", Baskin was asked to take a polygraph test, which she refused. One year after that in 2005, "… authorities leaned away from the theory that Lewis disappeared on his own.. [and yet] no one has ever been arrested or charged with a crime in relation to the case."
Excuse me… what?!
So let me get this straight, investigators came to the conclusion that Lewis didn't just magically disappear and that there were others involved but they still haven't charged anyone with the crime? If there isn't some blackmail, under the table, money transfers going on then I don't know what else to think.
Since the release of Tiger King, many people have come up with their own theories on what happened to Lewis. Some claim that Baskin murdered him and fed him to tigers, or that he was put through a meat grinder, or that his body was buried under a septic tank. These are funny and all, but I don't buy it.
Here's what I think: Baskin, being bitter that her new husband was a cheater and used her for sex and money, wanted to get her revenge, by taking his estate. With their copious amounts of money, she hired hit-men (or something of the sort) to kidnap and dispose of Lewis after arriving at the airport. Alternatively, these hit-men could have started a car chase with Lewis which landed him at the airport, in an attempt to escape. What other reason would make him leave the keys in his van? Someone could've easily stole it. The hit-men then took Lewis from his van and got rid of him in what would've been an extremely precise manner, as to not leave a trail. With Lewis gone, Baskin was left with the fairly simple task of fighting with Lewis' first wife over the estate money. With a good lawyer and grief on her side, Baskin wins the case and is left with millions, a sanctuary, and instant fame, now having her name and the name of "Big Cat Rescue" on the news.
Whether you believe my theory or the theory of others, one thing's for certain: Carole Baskin had motives to want to kill Don Lewis.
Carole Baskin killed her husband.
About the Writer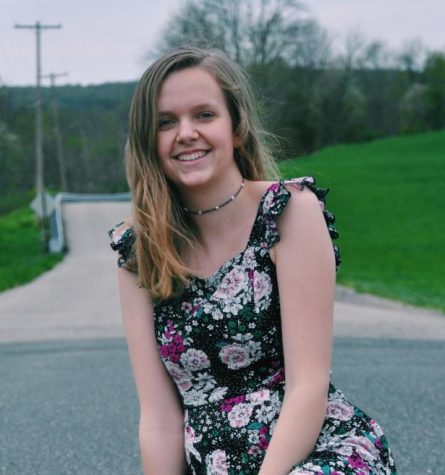 Anna Brodhead, Writer
Anna Brodhead is a Senior at West Morris Mendham High School. In school she is the President of Spanish Honors Society, a Guidance Ambassador, a member...