Trump's Monday Press Briefing Draws Intense Criticism From Left
 On Monday afternoon during a press briefing in the Rose Garden of the White House, Trump made it very clear how he felt the U.S. was doing in its battle against the coronavirus. Surrounding him on either side were very large posters proclaiming, "America leads the world in testing." 
While this is true when looking at the total number of tests that have been administered in the U.S., it is not representative of an adequate testing system that is in place like those in much smaller countries such as South Korea, for example. When scaled down to view testing per capita as opposed to by country, the U.S. falls around 40th place worldwide.
Trump also told the press that the United States had "met the moment" and "prevailed," which drew a response from Senate Democratic Leader Charles Schumer (N.Y.), who referred to Trump's claims as a "stunning disregard for the truth." 
Schumer went on to say, "What planet is he on? More than 30 million people unemployed and we have prevailed? One point three million infected, 80,000 American fatalities-those numbers still growing and we have prevailed? I don't care what your politics is. No one should tolerate a president who ignores truth, says whatever pops into his head, whether it's true or false, or dangerous and then moves on his merry way to speak the next untruth, talk about the next quack cure."
Schumer then went on to call out several other statements made by the president, including the one where Trump believed the virus would disappear as it became warmer.
"He said the warm weather might take care of it. He pitched quack medicines and speculated that a vaccine could be ready in two months. Two months ago, the president said that anybody who wants a test can get a test, which is not even close to being true," he stated. 
Schumer was critical of Trump's "belittling" and "ignoring" of the virus, which he believes, "has prolonged and made the crisis worse than American people know it. That's why he lashes out, the president does, at reporters who ask him fair questions. That's why."
What Schumer is clearly referencing here was the confrontation on Monday between Asian CBS white house correspondent Wejia Jiang. Jiang was born in Xiamen, China, and immigrated to the United States as a two year old. Questioning the emphasis on "America leading the world on testing," Jiang asked the president, "Why does that matter? Why is this a global competition to you if every day Americans are still losing their lives and we are still seeing more cases every day?"
Too many, this was a reasonable question that should be answered. Trump became livid at the criticism. 
"Maybe that's a question you should ask China," Trump responded. "Don't ask me. Ask China that question, OK?"
Not only does this claim ignorantly imply that Asians are responsible for the burdens now resting on the federal government's shoulders, it does not even make sense. Why would China have the answer to a question pertaining to the Trump administration's habit of making things a competition? How is China at all involved in the banners that were hanging on either side of the president boasting the U.S. was leading the world?
The event, which later saw Trump call off the press briefing entirely, drew large amounts of criticism in the following days. Many were quick to slam Trump for only further confirming his racist and ignorant views.
Political commentator Tara Setmayer referred to the scene as "another disgraceful, racist, temper tantrum by Trump because he … Trump can't handle smart, assertive women."
"Pretty pathetic, Mr. Trump is a coward who tears down others to make himself feel powerful," wrote Bernie Sanders through his Twitter account.
Trump appeared to acknowledge the controversy on Tuesday morning, deciding the best course of action would be to tweet, "Asian Americans are VERY angry at what China has done to our Country, and the World. Chinese Americans are the most angry of all. I don't blame them!"
As with many of the questionable remarks made by Trump in the past, this will likely be overlooked and ignored by his supporters despite a strong argument in support of Trump's ignorance.
About the Writer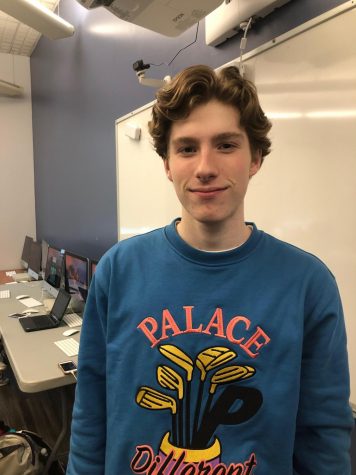 Jordan Larrabee, Global and School News Editor
Jordan Larrabee is currently a senior at Mendham High School. Jordan
is a returning member of Mendham's journalism class and writes for the
paper, The...