U.S. Putting in Efforts to Improve School Lunches
U.S. school lunches have never been known to be nutritious or healthy, and they're still missing the mark.
An investigation by USA Today found that meat served in U.S. schools wouldn't meet the quality or safety standards of fast-food restaurants. Some of these baseline standards, as established by the FDA include, "the display of nutritional information on its products", temperature and humidity-controlled food storage areas, and careful handling of food to reduce the risk of food-borne illnesses (FDA). After the investigation, Congress put more regulations into the national school lunch program, although there hasn't been much change since.
"
The National School Lunch Program provides low-cost or free school lunches to 31 million students"
This isn't all the fault of the schools, however. "The National School Lunch Program provides low-cost or free school lunches to 31 million students at more than 100,000 public and private schools each day" (foodrevolution.org). These participating schools only receive $1.30 to spend per child, per day. This funding is meant to cover not only the cost of food, but the cost "any labor, equipment, electricity, and [any] other costs". The schools also heavily rely on students who pay for their lunch and bring in revenue for the school.
The USDA (United States Department of Agriculture) gives millions of dollars worth of food goods and gives them to schools for free. This is a benefit to the schools but also helps to raise the demand for more agricultural products, helping to stabilize the economy. Although the free food is a great help, most of the products the money is spent on are meat, dairy, and egg products. Most of these products come from factory farms and don't really contribute to a balanced nutritional diet that growing kids need. In 2014 "more than $20 million taxpayer dollars were spent directly by the USDA on dairy product subsidies". Many people feel that this money would be better spent on more fruits and vegetables because when eaten in an unhealthy form (ie; chocolate milk, ice cream, artificial yogurts) these dairy products can be just as unhealthy as fast food. In addition to the USDA giving schools free food, many times the schools have affiliate vendors who provide them with goods. Because of this, the vendor ends up having purchasing power, not the school. This leaves the school having to serve whatever the vendor buys, which is most of the time unhealthy because it's cheap to buy.
Unhealthy school lunches lead to an even bigger issue of childhood obesity. The U.S. has the highest percentage of obese children in the developed world. With 31 million children being fed by the National School Luch Program each day, it's clear to see how an unhealthy lunch directly affects nationwide obesity.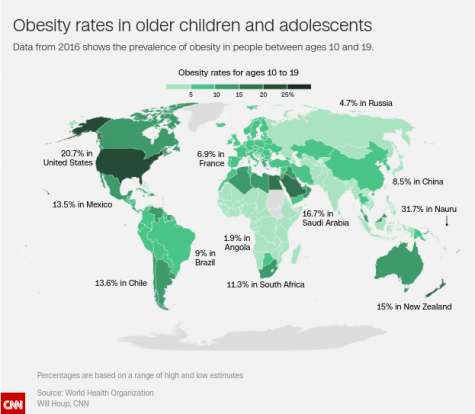 Globally, many countries have more established school lunch programs; giving every kid a healthy balanced lunch whether they can afford it or not. This example is being implemented more into the U.S. as of 2012. Congress passed more legislation which helped to raise federal lunch spending by about 6 cents per student. Congress also put requirements in place which include, having to offer fruits or veggies with every meal, increase the amount of whole grain, reduce sodium, and remove trans fats from all meals.
All of these efforts are being implemented around the country and their long-term benefits will hopefully start to show.
About the Writer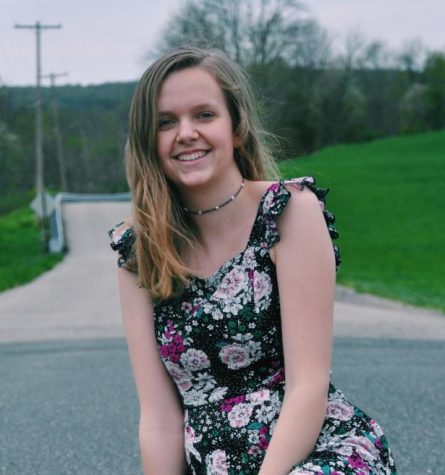 Anna Brodhead, Writer
Anna Brodhead is a Senior at West Morris Mendham High School. In school she is the President of Spanish Honors Society, a Guidance Ambassador, a member...