Getting to Know Democratic Candidate Pete Buttigieg
Written February 12th. Information may be different
To be able to be considered a serious contender in today's political landscape, one must be able to find ways to differentiate themselves from the rest of the crowd. A strong candidate is able to capture attention based on who they are as a person, as well as on what they are saying. 
Pete Buttigieg stands out from the other candidates for a variety of reasons. Firstly, Buttigieg is incredibly young and intelligent. He is the youngest candidate in the race at a mere 37 years of age, and arguably one of the best educated. Buttigieg received a Rhodes Scholarship from Oxford, as well as graduating from Harvard. His father was a first-generation immigrant from Malta, and both of his parents were employed as professors at the University of Notre Dame. After receiving his education, Buttigieg found work in various occupations, most notably serving for the US Navy reserve as a lieutenant and the Mayor of Southbend, Indiana. His military experience included a seven-month deployment to Afghanistan working as a counterintelligence officer, after which Buttigieg was awarded the Joint-Service Commendation Medal for his counter-terrorism work. In 2015, Buttigieg was re-elected as the mayor of Southbend with 80% of the total vote, proving his ability to satisfy voters. Another distinguishing factor that Buttigieg has in his arsenal is the fact that he is an open homosexual, and is married to a man named Chasten in Southbend. All these factors come together to allow him to connect personally with many issues that concern liberals, such as LGBTQ rights and immigration, without coming off as overly-liberal on issues such as foreign military involvement. This leaves Buttigieg in a position to appeal to those on the left of the spectrum, as well as those who are unsure and able to be swayed towards moderately liberal policies.
Buttigieg's specific stances are as follows: he would like to reduce the prison population by 50% nationwide. This would be tackled by relaxing sentencing laws such as mandatory minimum sentences, as well as by focussing on rehabilitating non-violent drug felons rather than incarcerating them, for example. He aims to abolish the electoral college and replace it with a national, popular vote to increase the democratic nature of our elections. Buttigieg also advocates for more governmental support in education by increasing teacher salaries and allowing all income levels equal educational rights, as well as introducing debt-free higher education. He supports equal pay for both genders, strengthening anti-discrimination laws, tightening of gun restrictions, universal healthcare, voting representation for US territories, and federally guaranteed safe and legal abortions, as is typical of most liberals today. Economically, Buttigieg is not radically liberal. This could work to his advantage as this could be attractive to independents as well as liberals. Specifically, some of his major economic campaign points focus on affordable housing, consumer protections, and an "inclusive economy." Buttigieg looks to improve housing for the average person by funding a national investment into affordable housing construction, increasing protections to current tenants, and addressing the homelessness issue directly. He looks to increase buyer protections by specifically passing strict regulations on predatory lenders, strengthening antitrust standards, increasing personal data privacy rights, as well as reviving the authority of the Consumer Financial Protection Bureau. Lastly, Buttigieg looks to increase entrepreneur jobs in underrepresented communities by 3 times, theoretically creating 3 million new jobs in these communities. Domestically, he i
s in favor of focussing military resources on issues like preventing extremism and acts of domestic terrorism. Buttigieg is also in support of increasing immigrant rights through the plan of reevaluating ICE and preventing the aggressive targeting of specific individuals or communities.
Of course, to enact these changes, Buttigieg must first be elected into office. In 2020 it has become clear that the tradition of primarily focussing all of your resources on either the Iowa or New Hampshire primaries has become not entirely critical to the success of one's campaign. Bloomberg is actively choosing to cut his losses on the initial states and is instead focussing his immense ad campaign on super-Tuesday states. Biden, the national frontrunner for the Democratic party, hasn't broken 3rd place after both Iowa and New Hampshire and is instead relying on his so-called firewall in South Carolina. And obviously Trump, his potential greatest matchup, has witnessed approval ratings rise to nearly 50% after having been impeached, continuing his unprecedented legacy. 
Buttigieg, however, has taken up the more traditional strategy reminiscent of John Kerry in his 2004 bid for the Democratic nation. Kerry's campaign was suffering; his polling was around only five percent nationally. After allocating massive amounts of money into carrying out retail politics in Iowa, Kerry was unexpectedly able to secure the victory in the Iowa Caucus. This exponentially increased his name recognition throughout the country as well as work
ed to revive his hurting campaign funds. This victory gave Kerry's campaign the much-needed support that was needed to allow him to follow it up with another victory in New Hampshire. Kerry carried this momentum all the way up until he had achieved the Democratic nomination, ultimately losing to George Bush.
Aside from the loss in the general election, this is the course of action that Buttigieg plans to employ against his Democratic competitors. He has alre
ady proven himself as one of the front runners for the Democratic nomination. Despite the technical difficulties experienced in Iowa,
"
…Buttigieg has officially claimed first place over Bernie Sanders. Buttigieg has also managed to claim second place in the New Hampshire primaries, only barely being beaten by Sanders who, historically, has strongly favored Sanders (Sanders beat Clinton 60% to 38% in the 2016 New Hampshire Primaries)."
Whether or not Buttigieg is able to maintain this kind of momentum has yet to be seen. The next Caucus state, Nevada, is wildly important for his electability across the nation. Buttigieg's notorious lack of support in minority communities will also be tested in states with less so of an overwhelmingly white population as in Iowa and New Hampshire.
So far, though, everything has gone according to plan for Buttigieg. With so many potential nominees (all with very legitimate chances of winning) dividing up the Democratic vote, it is impossible to, at this point, identify a solid favored candidate to win. Only time will tell the feasibility of Buttigieg's strategy to bank entirely on success in Iowa.
About the Writer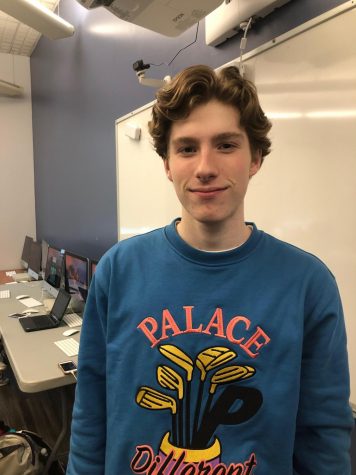 Jordan Larrabee, Global and School News Editor
Jordan Larrabee is currently a senior at Mendham High School. Jordan
is a returning member of Mendham's journalism class and writes for the
paper, The...