Coronavirus Update
This article was written on February third; information may be different
A new viral disease with an origin in China is threatening people all over the world. This disease, known as coronavirus, or 2019-nCoV, has been traced back to the warm meat markets in Wuhan, China. The virus leads to what experts are calling "pneumonia-like symptoms," including fever, coughing, shortness of breath, kidney failure, or pneumonia itself. 
On Monday the Centers for Disease Control and Prevention openly displayed their support for "aggressive actions" being taken to contain the risk of the newfound coronavirus in the United States. These actions refer to advice not to conduct travel to China and mandatory quarantines for visitors returning from that region of the country. 
This comes as the number of individuals infected with coronavirus hits 20,438. 425 of these people have died, officially bringing the death toll of coronavirus above that of the SARS outbreak in 2002. 
Other recent developments include the discovery by Chinese Scientists that the genome sequences from several patients were 96% identical to bat coronavirus, meaning that, along with the SARS outbreak, bats were the likely origin of the disease. 
On Saturday the first person to die outside of China passed away in the Philippines.
China Eastern has become the first major Chinese airline to join Air Canada, American Airlines, British Airways, Delta, Lufthansa, and Qatar Airways in its ban of travel to and from the Chinese mainland. 
Hong Kong now has only three entry points into the city. Hundreds of doctors and nurses have quit in response to a failure to completely close the city. 
In the United States, there are now currently 11 confirmed cases of coronavirus. This has instigated many to believe that the disease will receive another classification from the World Health Organization (WHO) as an official pandemic. It is "very, very transmissible, and it almost certainly is going to be a pandemic," the director of the US's National Institute of Allergy and Infectious Diseases, Dr. Anthony Fauci, told The New York Times Sunday. Last week, the WHO classified coronavirus as a "public health emergency of international concern," a level below the classification of Pandemic. The WHO and CDC define a pandemic as "the worldwide spread of a new disease," or by the characteristic of spreading throughout "several countries or continents, usually affecting a large number of people," respectively. According to the U.K.'s Health and Safety Executive, a disease transitions to a pandemic when it can "infect many people over a large area, be transferred from person to person, and cause clinical illness." 
This influenced many people, including Dr. Thomas Frieden, former director of the CDC to openly reveal that it is going to be "increasingly difficult" that the virus "can be contained." "It is therefore likely that it will spread, as flu and other organisms do, but we still don't know how far, wide, or deadly it will be," he said. 
As for what measures are being taken to combat the disease, the Trump administration came out Friday announcing it was temporarily suspending entry into the U.S. to all foreign nationals who may be at risk of carrying the virus. This sparked tension, with Chinese officials criticizing this response. "Many countries have offered China help and support through various ways. In contrast, the U.S. comments and actions are neither based on facts, nor helpful at this particular time," China's foreign ministry spokesperson Hua Chunying said in a statement. Although Chinese officials have come out and said they would be accepting aid from foreign infectious disease experts, the U.S. has yet to be invited. 
On U.S. soil, the latest information from the CDC states that, of the 260 tests that have been sent over 36 states, 167 were negative, 11 were positive, and the rest are pending.
Cures are currently hastily being tested but none has had any form of success.
About the Writer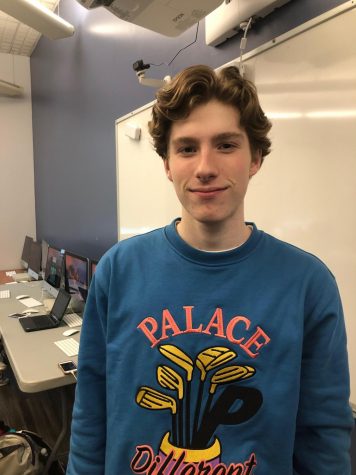 Jordan Larrabee, Global and School News Editor
Jordan Larrabee is currently a senior at Mendham High School. Jordan
is a returning member of Mendham's journalism class and writes for the
paper, The...