Previewing Mendham's Fall Play, The Last Days of Judas Iscariot
On Tuesday, September 3rd, auditions for the play, The Last Days of Judas Iscariot, began, kicking off the fall drama season.  After the first week of September when the cast list was selected and sent out, rehearsals soon followed.  Most people who are not involved in the play underestimate the time and commitment it takes to put on a successful production.  The cast of the play is set to rehearse every day after school from the second week of September to the first week of November when the production is expected to hit the stage.  All this practice time may seem like overkill, but due to the play's "ambiguous nature," it takes a lot of hard work to perfect it, says director Dan Hellriegel.  

The plot of the play focuses on the trial of Judas Iscariot, one of the twelve disciples of Jesus,  and tries to determine whether he should go to heaven or purgatory, the place between heaven and hell.  There is no specific time frame for the play as it takes place in purgatory, which allows for many historically well-known figures to be featured in the play to give their opinion on Judas' fate. The play is very heavily focused on morality and ethics with the inclusion of religious characters, however, one does not need to identify with a certain set of beliefs to enjoy and take away the deeper meaning. In fact, in speaking with Mendham's play Director, Mr. Barthel, it was revealed that, "(The play) sees these characters as real people, with real problems. It centers around the genuine concept of: what happens when you betray your best friend, and explores themes of guilt and our own perceptions of the afterlife. It asks questions like, if there is a heaven how do you stack up, if there's a hell how do you stack up, if there is something in the middle… you know…  how do you stack up?"

"The play has many twists and giggles involved and will be 'blast' for the audience to see" and may even be "

"

the best production ever"

— Dan Hellriegel

" to come to theatre at Mendham High School, according to student-director Dan Hellriegel. If you are interested in watching The Last Days of Judas Iscariot here in the Mendham auditorium on Friday and Saturday, November first and second, then visit: https://wmmhs.booktix.com/ to purchase tickets. 

"… if your willing to see a show about friendship, love, loss, betrayal, something that really challenges our perceptions of morality and who we are in the society, then I really encourage you to come out!" declared Mr. Barthel, concluding our interview.
About the Writers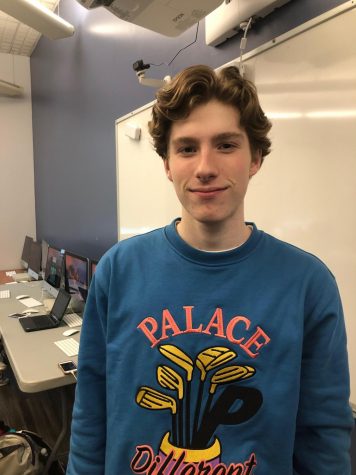 Jordan Larrabee, Global and School News Editor
Jordan Larrabee is currently a senior at Mendham High School. Jordan
is a returning member of Mendham's journalism class and writes for the
paper, The...
Tommy Diegnan, Writer
Tommy Diegnan is currently a senior at Mendham High School.  He enjoys playing football and lacrosse at Mendham, along with going on hikes with his two...