"Firecat" Adopted and Safe After Burnt by Bonfire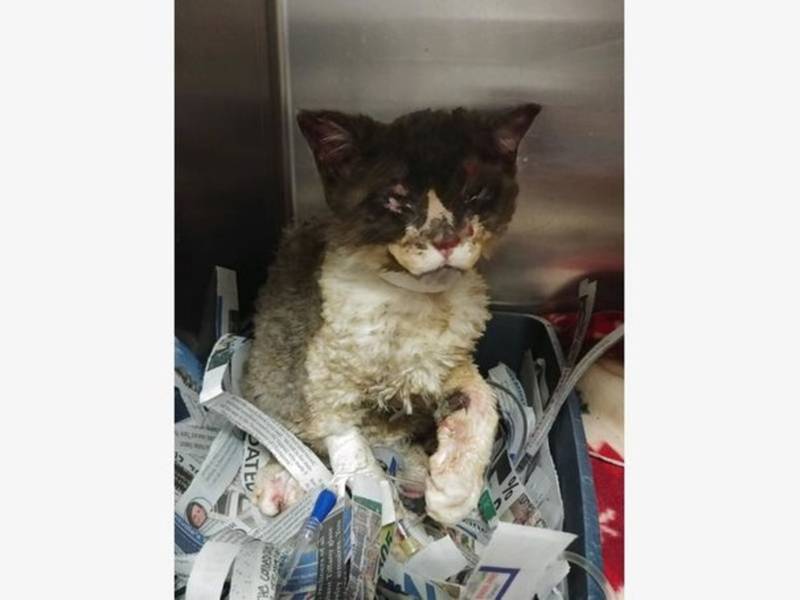 julia niehoff
March 11, 2019
13-week-old kitten nicknamed "Firecat" had to expend one of its nine lives on January 6th during Mendham Fire Department's Twelfth Night Bonfire after the holiday season.
The tradition consists of burning Christmas trees, but when these were lit, the kitten escaped and was caught by firefighters. Following that, the captured cat was given oxygen and taken to Alliance Emergency Veterinary Clinic in Randolph.
In a Facebook post from Randolph Regional Animal Shelter, Firecat is apparently, "He is resting comfortably with the help of pain meds. Firecat is on iv fluids, oxygen and receives eye drops and other meds." According to RRAC, "He's lucky to be alive, poor thing" (Facebook).
As for the officials leading up to the fire, they said that during "several hours" on Sunday prior to the lighting of the trees, while loading the trees into a pile, they did not see anything unusual. In their statement, they did not "witness any activity that would lead us to believe that animals were within the trees". However, they did wish the best for the cat: "We want to thank all the concerned Mendham residents and are confident the cat will get the proper care and treatment, and we hope the cat has a speedy recovery." (Patch.com)
Although what Firecat has been through has been traumatic to say the least, what has resulted in the Mendham community is a new popular figure online. Immediately after his rescue, he was adopted. Many also praise the work of the veterinary hospital and animal shelter in Randolph for their support. What this does emphasise overall is the ability for first responders to react in the most unlikely of situations, how other businesses in the community helped this furry friend, and the overall support from the Mendham community.
Photo courtesy: Randolph Regional Animal Shelter