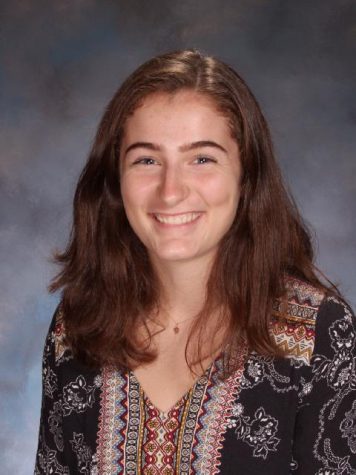 Julia Niehoff is a senior in the West Morris Mendham High School Class of 2019. Additionally, Julia is an officer for the Environmental Club,
 member of the Mendham Township Environmental Commission (MTEC), volunteer at Schiff Nature Preserve, 
coach for Centra
l Jersey Volleyball Academy, and a three-year varsity letter winner on the volleyball team. She plans to major in Environmental Science.
Julia Niehoff, Editor-in-Chief
May 30, 2019

Profiles in Gratitude: Thomas Staley and Mr. Gavin

(Story)

May 30, 2019

Profiles in Gratitude: Anthony Grasso and Señora Lopes

(Story)

May 29, 2019

Profiles in Gratitude: Casper Kuczek and Mr. Ward

(Story)

May 29, 2019

Profiles in Gratitude: Dan Mills and Mrs. Danner

(Story)

May 13, 2019

Profiles in Gratitude: Abbey Thalacker and Mrs. Brown

(Story)

May 07, 2019

Profiles in Gratitude: Briana Magro and Miss Viola

(Story)

May 02, 2019

Profiles in Gratitude: Will Robbins and Mr. Dowler

(Story)

Apr 22, 2019

Profiles in Gratitude: Mercedes Lombardo and Señora Gil-Botero

(Story)

Mar 11, 2019

"Firecat" Adopted and Safe After Burnt by Bonfire

(Story)

Feb 25, 2019

Oscars 2019 Red Carpet Fashion Review

(Story)

Feb 14, 2019

Roberts Sides with Liberals and Blocks Louisiana Abortion Bill

(Story)

Dec 17, 2018

A 2018 Mendham Crossword

(Story)

Dec 17, 2018

A Sweet Success: What Changed the Apple Industry

(Story)

Dec 14, 2018

New Leadership, New Newspaper

(Story)

Nov 30, 2018

Ted Cruz Sports Grey Beard First Time in Senate Tenure

(Story)